Character and Personal Reference Letters
Tips for Getting and Giving Personal References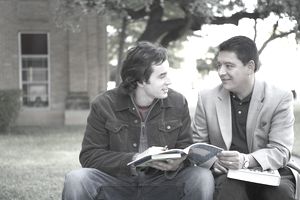 Looking for your first job or been out of the workforce for a while? Do you need a recommendation, but don't have professional references you can use? Are you concerned about the references your employer might give you? Consider using a character reference in addition to or as an alternative to employment reference letters.
A character reference (also known as a personal reference) is a letter written by someone who knows you and can speak to your character and abilities.
Unlike professional references, the person writing the reference is not your employer.
Along with using character references when applying for jobs or school, you might also need a character reference when applying for a loan from the bank. A reference gives the employer, school, or bank a vote of confidence about the candidate.
Read below for information on requesting and writing character reference letters, as well as a template you can use for a personal reference letter.
Who to Ask for a Character Reference
Who should you ask to provide a personal reference for you? Ask someone who you know personally, who can speak to your character and abilities.
Neighbors and acquaintances may be willing to write a reference for you. Business acquaintances, professors/academic advisors, customers, and vendors can also make good references. You may be able to use a friend as a reference for employment.
If you volunteer, consider using leaders or other members of the organization as personal references. Have you participated in the Girl Scouts, Boy Scouts, 4-H, a similar organization or in school sports? Do you belong to a church group? Ask your group leader or coach to write a personal letter of reference for you.
If you've baby-sat or dog-sat or shoveled snow, ask the people you worked for if they will write a reference letter for you.
Whoever you ask, be sure to send a thank you note afterwards to the writer. Be sure to emphasize how much you appreciate them taking the time to write you a reference.
Tips for Writing a Character/Personal Reference Letter
Think before saying yes. Before agreeing to write a character reference letter, be sure that you can write a positive and honest letter. If you cannot, it is better to say no; this will give the person the chance to ask someone who might write him or her a stronger reference letter. If you do not want to explain the reason for saying "no" in detail, you can simply say, "I don't feel I am qualified to write a letter on your behalf."
Request information. If you decide to write the letter, make sure you have all the information you need. In particular, make sure you know what the letter is for (whether it is for a particular job, a college application, etc.), how to submit it, and when it is due. You might also ask the person if he or she has a resume or other document listing their skills and experiences that you can use to help write the letter.
Be specific. In your letter, focus on two or three specific qualities or abilities the person has that make them a good fit for the job or school. Look at the job listing, or the school website, for a sense of the qualities the employer or school might be looking for. Provide an example of a time the person demonstrated each of these qualities.
Provide contact information. Provide some form of contact information so that the employer can reach you with further questions.
Use business letter format. If you are sending the letter by mail, use business letter format when writing your letter. Including the contact information of the employer at the top, the date, and your contact information. Conclude with a handwritten signature, and your typed signature underneath. If you are send an email reference letter, you do not have to use this format.
Edit, edit, edit. Be sure to thoroughly edit your letter so that it is polished and professional. Ask a friend or family member to read over the letter before you send it.
Character Reference Letter Template
Have you been asked to write a reference letter? Or do you want some samples to give to the person who is writing a reference letter for you?
A personal reference letter should provide information on who you are, your connection with the person you are recommending, why they are qualified, and the specific skills they have that you are endorsing. It should also include specific examples of times they demonstrated these skills.
Review this template for ideas and suggestions on what to write and how to provide a compelling reference.
Salutation
When writing a character letter, include a salutation (Dear Dr. Jones, Dear Ms. Matthews, etc.). If you are writing a general letter, say "To Whom it May Concern" or don't include a salutation and start with the first paragraph of the letter.
Paragraph 1
The first paragraph of the character reference letter explains how you know the person you are recommending and why you are qualified to write a recommendation letter to recommend employment, college, or graduate school. With a personal letter, you are writing a recommendation letter because you know the person and their character, rather than because you have direct experience with their work or education.
Paragraph 2
The second paragraph of a reference letter contains specific information on the person you are writing about, including why they are qualified, what they can contribute, and why you are providing a reference letter. Use specific examples of times the employer demonstrated these skills or qualities. If necessary, use more than one paragraph to provide details.
Summary
This section of the reference letter contains a brief summary of why you are recommending the person. State that you "highly recommend" the person or you "recommend without reservation" or something similar.
Conclusion
The concluding paragraph of a reference letter contains an offer to provide more information. Include a phone number and/or email address within the paragraph, and include the phone number and email address in the return address section of your letter, or in your email signature.
Sincerely,
Your Name
Title
More Personal Reference Letter Samples
Sample Character Reference Letters
Character reference letters can be written by teachers, neighbors, business acquaintances, clients, vendors, and other recommenders who can attest to your skills and abilities. Review a variety of sample character reference letters.
Read More: Student References | Sample Recommendation Letters | Official Transcripts