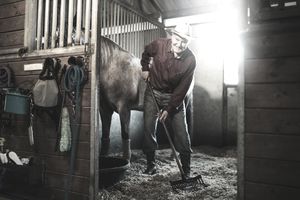 There are many different career options for those who are interested in working with horses. Here are 15 possibilities for those seeking an equine career:
1. Equine Veterinarian
Equine veterinarians provide preventive health care for horses and treat their injuries. Becoming a licensed equine veterinarian involves a significant educational commitment, but the career has a solid average salary of $85,000.
Board certified practitioners (also known as veterinary specialists) can earn much higher salaries.
2. Equine Veterinary Technician
Equine veterinary technicians provide assistance to veterinarians as they complete exams and surgical procedures. Vet techs must complete a two-year degree and pass an exam to become licensed in the field. Equine techs can expect to earn a salary in the $31,000 to $35,000 range; those with veterinary technician specialist certification (VTS) may earn even higher levels of compensation.
3. Riding Instructor
Riding instructors supervise students and direct them in riding lessons and training sessions. They may also ride the student's horse to demonstrate proper techniques. Instructors may specialize in a variety of riding disciplines such as hunt seat, saddle seat, dressage, reining, and show jumping. Instructors usually charge an hourly rate for coaching services but on average earn about $35,000 to $39,000 per year.
4. Farrier
Farriers are responsible for trimming, maintaining, and balancing equine hooves. Farriers must attend to each equine client about 7 times per year on average. Most farriers are self-employed and can learn the trade via apprenticeship and certification courses. Those with experience can expect to earn an average of $92,600 per year.
5. Mounted Police Officer
Mounted police officers use their horses to provide crowd control and deter crime. Mounted officers must first achieve regular police officer status via police academy training (which takes roughly six months) and then work for about 3 years on the regular force before becoming eligible to apply for specialty units like the mounted patrol. Police officers earn an average salary of $58,630.
6. Broodmare Manager
Broodmare managers supervise the care of mares and foals. They are responsible for assisting with foalings, teasing mares, and keeping detailed veterinary and production records. The average salary for a broodmare manager is about $40,577.
7. Stallion Manager
Stallion managers supervise the care and breeding of stallions. They are involved in scheduling breeding shed appointments, supervising daily care, and promoting stallions to the public. The average salary for a stallion manager is about $40,000.
8. Jockey
A jockey rides racehorses in flat or steeplechase races according to the trainer's instructions. Jockeys can ride multiple races each day, as well as working horses in the morning. Earnings vary widely as the jockey earns a percentage of their horse's winnings in each race, and race purses vary by track and level of competition.
9. Groom
Grooms provide daily care for the horses under their supervision, taking care to notice any changes in a horse's behavior or body that might signal a need for veterinary care. Grooms can expect to earn about $20,000 per year on average.
10. Exercise Rider
Exercise riders work horses each morning on the racetrack, following the instructions given by trainers. Exercise riders are generally a bit taller and heavier than jockeys. Riders are usually paid by the mount, and a full-time exercise rider can earn a salary of $27,000 ($500 to $700 per week).
11. Barn Manager
Barn managers supervise the care of the horses in their stable. They may be involved with hands-on horse care, managing employees, and scheduling deliveries of feed and bedding. Barn managers earn $30,000 to $40,000 per year.
12. Bloodstock Agent
Bloodstock agents evaluate horses at auction and bid on them on behalf of their clients.
They may also arrange the purchase of stallion seasons, proven racehorses, or horses that are privately for sale. Most bloodstock agents are involved in the Thoroughbred industry and earn a commission for their services. New agents can earn about $30,000 per year, while experienced professionals may earn six figures.
13. Equine Dental Technician
Equine dental technicians remove sharp points from a horse's teeth (in a procedure known as "floating" the teeth). Dental care ensures that the horse is able to eat and perform properly. Equine dental techs usually earn a set fee per horse treated, with yearly earnings topping $50,000.
14. Racehorse Trainer
Racehorse trainers condition their equine charges to compete in racing events. They must be well versed in all aspects of horsemanship and pass a licensing exam in each state where they intend to compete. Trainers earn a "day rate" for the horses under their care plus a percentage of their horses' winnings. Most trainers earn between $20,000 and $60,000 annually, though top trainers routinely earn six-figure salaries.
15. Horse Breeder
Horse breeders arrange matings that result in foals of a certain breed or foals that are suited for a specific type of competition. The salary of a breeder can vary widely based upon what breed they produce and the quality of their breeding stock.