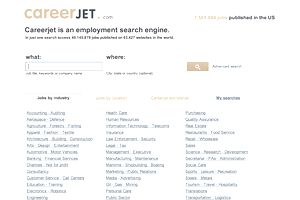 CareerJet.com a vertical job search engine that maps job listings available on the internet in one database by referencing job listings originating from company websites, recruitment agency websites, and large specialist recruitment sites. The site offers jobs across 45 categories including traditional industries like banking, healthcare, media and legal, as well as more niche specialties like aerospace, agriculture, robotics, and steel.
About CareerJet
CareerJet is privately held by two co-founders and executive managers. The business was launched in France in 2000 followed by Belgium and Switzerland in 2001 along with the Spanish version. The was followed by the UK version 2002. Recent launches in 2012 have expanded Careerjet's international network, adding Arabic versions under the name Almehan, for Morocco, Egypt, United Arab Emirates, Saudi Arabia, Kuwait, Oman, and Qatar.
Careerjet's technology can theoretically index job offers from an unlimited number of websites irrespective of structure, design or language. As a result, the site boasts a daily updated index of more than 10 million jobs and receives over three million users per day.
The site's network of job search engines indexes international employment opportunities in more than 90 countries and in 28 languages. The interface and job listings appear locally on each country's site.
Careerjet also has a Web Publisher program which allows companies to use Careerjet's search capabilities from within their websites.
CareerJet Job Search
The CareerJet site has a fast and straightforward interface where users can query the database and save the trouble of visiting each site individually.
Career Jet scans over 58,000 websites for job listings daily.
Additional Job Search Engines
Indeed is considered the top job search site. It's one of the easiest to use and you can search by location, keyword or both. You can also distinguish the paid posts from the others. Indeed will also link you directly to the employers' job posting on their own site.
SimplyHired is a popular job search engine and holds the number two spot in the field. It goes beyond  Indeed with its various types of add-ons that connect you to social media, for instance, and allows for forms of sharing. You can also sort by specific factors like companies that hire veterans, businesses that are diverse and those that promote by eco-friendly practices, for instance.
LinkUp functions like Indeed but indexes job listings directly from company websites instead of other job board listings.
GlassDoor sets itself apart with its ratings of prospective employers. Employees can share and rate their experience, benefits offered, salaries, work conditions, interview processes and more, to give prospective applicants an inside peek into the company and know what to expect.
LinkedIn uses a social media platform approach by allowing job seekers to network and post resumes in addition to searching for jobs. It lists paid job listing first but will also pull job search content and postings.
JobCase is one of the most recent aggregators on the scene; it isn't just a job board--it's also a community where members can post on the forum, giving job seekers access to a range of resources.