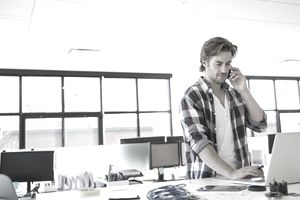 User experience (UX) as it is today started in the 1990s with Don Norman. Norman is a cognitive psychologist, known for his book The Design of Everyday Things.
Essentially, user experience is all about the way a product is able to meet the customer's needs and help them achieve their goals.
What is UX Design?
User Experience design (UX), is, simply put: designing products for the end user with the goal of increasing user satisfaction.
UX differs from graphic design or web design because it takes a holistic approach. UX practitioners consider everything: how a product works, looks, and feels, where the product exists, how the user feels while using it, and so on. They think about where the user is coming from and where they'd like to go next.
UX design can be applied to physical products (like a chair), or nonphysical (like a website or mobile app).
For the purposes of this article, we will be focusing on nonphysical products -- specifically, web / mobile usage.
UX is about understanding the end user and helping them solve their particular problems by getting them where they need to go.
This means websites need to be easy to navigate and user-intuitive. It's all about simplicity: if a person has to think about how to use your website or mobile app, that's a problem. It should be natural.
Skills Needed To Be a UX Designer
UX as a discipline is wide-reaching, and different UX designers can vary in the scope and focus of their jobs.
Some focus solely on user research. Others more so on the design of the website / app.
UX designers typically work on teams, which often include a developer and designer, among others.
Because it is such an expansive field, the skills needed will depend on the specific position. But here are a few of the core ones you can master.
Wireframing and prototyping: creating a dummy version of website/web app/mobile app
User research: conducting personal interviews, card sorting
Content strategy: analyzing content, understanding what content users prefer in a given context, and how much of it should be text or images, etc.
Information architecture: how to structure content on a site or app
Data-driven design: looking at data, designing based on data
Qualitative and quantitative research: gathering formative and summative research
Accessibility design: designing products usable by a wide spectrum of people
Of course, there are others, but these are a good place to start.
How To Become a UX Designer
There are three basic options to start learning UX.
Self-learning
Bootcamps
Master's degree
1. Self-learning
There are a couple methods you can use to learn these skills on your own. Based on your preferred learning style, you can use any or all of them.
Books
Free (or inexpensive) online courses - For instance, Lynda.com
In-person workshops - For instance, General Assembly. (More or less a one-day workshop for $175)
For more information on free/affordable UX courses, continue here.
The upside of self-learning: it's affordable and you can go at your own pace.
The downside: this may take the longest time to learn. Plus, you're basically on your own.
2. Bootcamps
Compared to go-at-your-own-pace classes and short workshops, boot camps are usually more intensive. And usually more expensive -- but they still cost less than a formal degree.
You still have options, though: there are full-time and part-time bootcamps and you can attend one online or in person.
For instance, you could enroll in Bloc.io's online UX boot camp. It's $3,999, with 12-week, 18-week, and 36-week options.
Generally, boot camps allow you to learn more in less time and receive guidance from industry professionals.
3. Master's Degree / Certificate
Of course, you can go even more formal and do a master's degree or certificate program. These are the most pricey and time-consuming, but they do offer specialized training from experts.
Because UX is so vast, there is not one master's program to train you for all the positions out there, but popular options include Interaction Design and Human-Computer Interaction.
There are also certifications. Like this one at Bentley.
If you're just starting out, it's probably best to do some online courses to get your feet wet. Then maybe try out a boot camp or certification program before fully committing to a master's degree. You may discover that for the job you want, a master's isn't even necessary!