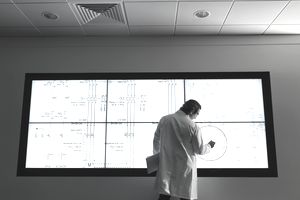 Today "big data," "analytics," and the like are trending buzzwords. And for good reason.
Back in 2012, HBR named "data scientist" as the "sexiest job of the century." But what does data science truly entail? And more importantly, how can you acquire the skills needed to call yourself a data scientist?
What is Data Science?
Once upon a time, data scientists were mostly in the academic space. Now, with the upsurge of big data collection and the need for analysis, data scientists have become in high demand in a range of companies and industries, small and large.
Data science as a profession incorporates a range of skills within mathematics, statistics and computer programming. It is an industry dominated by men, estimates of women in data science are around 10%.
According to Glassdoor, the average national salary for data scientists is $113,436 (early February, 2017). Looking at compensation alone, data science is a lot more attractive than other similar careers.
Skills Needed to be a Data Scientist
Like all jobs, the specific skills required to fill data science positions depend on the individual company.
But there are certain skillsets / software tools that remain consistent.
Statistical programming language, like R and SAS
Database querying language such as SQL
Basic statistics such as statistical tests, distributions, maximum likelihood estimators, and so forth
Machine learning methods such as k-Nearest neighbors, random forests, ensemble methods, etc.
Multivariable calculus and linear algebra
Data logging and development of new products that are data-driven
Familiarity with Hadoop platforming
Visualization tools such as Flare, HighCharts or AmCharts
Learn more about how to become a data scientist and skills needed here.
How to Become a Data Scientist
Nowadays, there are three viable options for becoming a data scientist:
Of course, there are pros and cons to each method.
Self-Study
Pros:
Convenient: can be done on your own time in any environment and at any pace
Affordable: could cost anywhere from $0-600.
Saves time: online courses can be completed within 8-18 months.
Cons:
Only receive a certificate after completion
No peer-to-peer or teacher-to-student involvement
No assistance with job hunting
Data Science Boot Camp
Pros:
Little time commitment: can be completed in 6 weeks to 3 months
Relatively affordable, at least compared to getting a master's degree (boot camps range from free - $16,000)
Ideal for those looking to change careers quickly
Many boot camps offer assistance in the job search process after completion
Cons:
Only get a portfolio of projects - no "real" work experience 
A lot to learn in a short amount of time
Could be up to 40 hours a week of work (unlike self-study where you can go at your own pace and still work part time / full time)
Master's Degree
Pros:
Diploma upon completion
Structured learning with professionally trained instructors
Real-world experience: many programs include internships that will add to experience and knowledge
Ample time to learn and absorb all of the information
Cons:
Expensive: could cost between $20,000- $70,000 -- not including living expenses
Time-consuming: can also take the longest (9-20 months)
For more information on weighing the pros and cons of learning data science, check out this article.