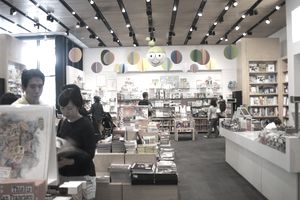 Job Description of Art Museum Gift Shop Sales Associate
A Gift Shop Sales Associate works full or part-time in an art museum's gift shop. Although an art background is not required, the job does attract people who have a passion for art and museums.  
Most, if not all museums, have a gift shop selling post cards, art books, and other museum related-souvenirs and items; a museum gift shop plays an important role in the museum's branding and identity.
When a museum has a special exhibition, like a blockbuster show, the gift shop can be overwhelmed with visitors buying items and memorabilia related to the exhibition.
In this consumer-based position, a Gift Shop Sales Associate needs to be an exceptional salesperson, exuding grace under pressure, and working well in a fast paced retail environment.
Education Needed to Be an Art Museum Gift Shop Sales Associate
A Gift Shop Sales Associate does not need a fine art background or college degree.
A High School Diploma or equivalent with 6 months to 1 year retail shop clerk experience is usually required.
Duties Required to Be an Art Museum Gift Shop Sales Associate
A Gift Shop Sales Associate is a retail sales clerk in the museum's gift shop, greeting and assisting museum visitors. Duties include processing retail sales and completing cash register transactions, and helping customers with purchases, deliveries, and orders made in person, or via online or telephone.
A Gift Shop Sales Associate answer phones, sends emails, and arranges and receives shipments. Also, a Sales Associate takes control of inventory, restocks shelves, organizes the storage areas, and creates aesthetically-appealing visual displays of the merchandise.  
Being knowledgeable about the gift shop merchandise is necessary, so that the Sales Associate can guide the customer to the appropriate product.
Skills Required to Be an Art Museum Gift Shop Sales Associate
Besides retail and ticketing knowledge, knowing computer office software (such as Retail Pro or other types of Point of Sale software) and being able to do basic office management is also necessary.
Working in a gift shop requires long periods of standing as it is not a desk job. Also, the job is physical as it includes lifting heavy items, bending and reaching to stock shelves, among other tasks.
How to Apply for a Museum Job
Many art museums post employment opportunities on their websites, so it is easy for job applicants to apply online. Typically, applicants can send their job applications and resumes to the museum by email, or by uploading to the museum's website.
Career Opportunities for Art Museum Gift Shop Sales Associate 
According to the US Bureau of Labor and Statistics:  Overall employment of museum staff "is projected to grow 11 percent from 2012 to 2022, about as fast as the average for all occupations."
The Bureau does not post specific statistics for Gift Shop Sales Associates, but it can be surmised that there are and will be available jobs for this position.
Further Resources
The retail industry provides a wide range of jobs such as Stocking and Inventory and Visual Merchandising.
Here are professional tips on how to get a retail job. 
The following weblinks are for online job listings for various art museum jobs. Please note that these job listings have deadlines, and that the data is constantly changing.
Besides searching online, those interested in working in a museum's gift shop could visit the museum directly to inquire about a job.