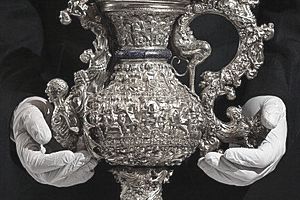 Job Description of Art Museum Collections Assistant
An Art Museum Collections Assistant works full-time in an art museum, providing administrative and technical support to the museum's collections and conservation departments.
A Collections Assistant handles and takes care of the objects and artifacts in the Museum's collection.
Education Needed to Be an Art Museum Collections Assistant
A Collections Assistant requires special training in learning how to handle museum objects, such as how to document objects in the collection, take inventory, and administer the museum's conservation and storage procedures.
Besides having practical experience in handling a museum's collection, a college degree is usually required for this position. In addition, having some volunteer experience in an art museum is also beneficial as that helps build skills and knowledge about the way a museum operates.
Duties Required to Be an Art Museum Collections Assistant
A Collections Assistant is in charge of administering and maintaining the standards and procedures for museum acquisitions, including receipt and loans, documentation, inventory, conservation, storage, physical care, packing, shipping logistics.
A Collections Assistant also works closely with the Conservation and Registration Departments, providing both technical and administrative assistance.
Besides conservation, a Collections Assistant also prepares spreadsheets in order to manage the budget for reimbursable expenses such as travel costs, supplies and equipment.
Skills Required to Be an Art Museum Collections Assistant
An Art Museum Collections Assistant knows the basics of museum collection management and how a museum operates. Being skilled in the basic procedures for conservation and preservation of objects and artifacts, and knowing how to determine the condition of artworks and follow museum protocol is key.
Being skilled in computer database management, and being able to research and track data relating to the museum's collection, such as compiling background information, and maintaining collection-based reports are required for the position. Office administrative skills such as preparing spreadsheets, writing reports and keeping computer database files up to date are also part of the job.
How to Be Hired as an Art Museum Collections Assistant
Large art museums typically post job listings when an employment opportunity becomes available. Qualified candidates are usually asked to email their cover letters and resumes via email to the museum's personnel department or upload their application forms to the museum's website. 
An alternative way to get hired is to volunteer and gain valuable museum experience, so when a position does become available, you become a favorable candidate.
Career Opportunities for an Art Museum Collections Assistant
Various jobs in art museums are available for qualified applicants. According to the US Bureau of Labor and Statistics, overall employment of art museum staff is "projected to grow 11 percent from 2012 to 2022, about as fast as the average for all occupations." 
More Info on Art Museums
Art museums need a large competent and varied staff. Some museum positions only require a High School degree, while other positions may require a Doctorate degree in a particular area of specialization.
Learn more about careers in the field of art museums. Is working in an art museum a good career choice for you? Learn more about art museum jobs and get started on your new art career:
Q and A with Los Angeles County Museum of Art HR Staff
Further Resources
The following weblinks are for online job listings for the visual arts field and can be searched by job position. Please note that these job listings have deadlines, and that the data is constantly changing.