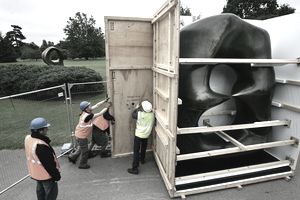 Job Description of Art Auction House Shipping Associate
An Art Auction House Shipping Associate works full-time in an art auction house, during regular business hours, and on occasion, nights and weekends.
Since art auction houses are in the business of buying and selling art, the shipping department plays an important role, as the auction house requires constant shipping and handling of the artworks which are commissioned and sold.
Shipping Associates (un)pack and ship artworks under tight deadlines.
The shipping department is a fast-paced environment, and Shipping Associates are required to be detail-oriented and work well as a team. Handling, packing and unpacking the artworks also require special treatment as some works will be fragile such as glass, paper, or antique items, or highly valuable and rare like an Old Masters painting.
Education Needed to Be Art Auction House Shipping Associate
To work in an art auction house, an Art Auction House Shipping Associate does not need a college degree. However, a High school diploma or its equivalent is required to work in an auction house's shipping department.
In addition, a shipping associate needs a valid driver's license and clean driving record, as driving the auction house's vehicle to pick up or deliver goods is part of the job.
Duties Required to Be Art Auction House Shipping Associate
The duties of an Art Auction House Shipping Associate include receiving, delivering, and picking up art works which will be consigned to the auction house; loading and unloading artworks and other items; deciding the proper way to crate and package an artwork; and prepare the set-up and break down of displays for previews and auctions.
Duties may also include the maintenance of the vehicle and its parking arrangements or garage.
Skills Required to Be an Art Auction House Shipping Associate
An Art Auction House Shipping Associate needs to be physically strong and able to lift heavy items on a regular basis. Having computer skills and knowledge in office software programs is required as emailing and keeping records are part of the job.
Experience Needed to Be an Art Auction House Shipping Associate
A Shipping Associate typically needs at least one year of shipping experience in an office and packaging environment in order to be considered for a job in an art auction house.
How to Be Hired as an Auction House Shipping Associate 
Art auction houses post job listings when job opportunities for Art Auction House Shipping Associates, when jobs become available. Qualified applicants are usually asked to email their cover letters and resumes to the auction house's Human Resources Department.
A Note on Career Advancement
In today's tough job market, it is necessary to continually acquire new skills and knowledge. If you are hired as a Shipping Associate, it is wise to learn all aspects of shipping, logistics, art handling, and management, and work your way up to higher-level positions within the auction house. Having a great attitude to learn and doing outstanding work is one way to be recognized by your superiors.
Further Info on Art Auction Houses and Careers:
Fine Art provides many a wide range of articles on art auction house careers, such as:
What Type of Education or Training Is Required to Work at an Auction House?
What Types of Jobs Are Available in an Auction House?
Further Resources
The following weblinks are for online job listings for art auction house staff. Please note that these job listings often have deadlines, so the posted information is constantly changing.
In addition to the job sites, you may want to contact an auction house directly and search for any job openings on their websites. To find an auction house near you, check out Fine Art's listing of international art auction houses.