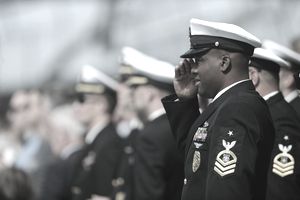 Keeping the Navy afloat requires boatloads (get it?) of qualified, motivated sailors. But who keeps the sailors' careers afloat? Navy counselors (NC), of course.
Duties and Responsibilities
The counselor rating, as its name implies, is the Navy's answer to guidance counselors and human resource management. Of course, the job isn't so simple as shaking hands and making people feel good, but I do appreciate how Navy.com starts off their sales pitch by suggesting counselors are motivated by "the great satisfaction of enriching the lives of others...throughout their military careers for many different reasons, at many different stages of life."
So naturally, that means the heart and soul of the NC rating is interviewing sailors, advising them on career options, and helping them make the best decisions for their futures. While providing robust education and counseling on career options does help sailors, the big picture is keeping the Navy staffed with as many highly qualified folks as necessary to accomplish the mission.
Duties don't end with counseling, either. NCs must support human resources management through a variety of administrative functions. According to Navy Credentialing Opportunities On Line (COOL) these include:
Track "retention and attrition trends" (comparing number of reenlistments to number of discharges)
"[P]repare budgets"
Compile "career information reports"
"[A]dvise senior command leadership" on matters of retention
Military Requirements
Much like career counselors in the Army and Marines, being a Navy counselor is out of reach for first-time recruits.
If you intend to counsel others on a career in the Navy you must have lived it. Strictly speaking, that means applicants must have already reenlisted and achieved the rank of Petty Officer 1st Class (or 2nd Class, eligible for promotion to 1st), but the folks at Navy Personnel Command reviewing your application will be looking for evidence that you've "experienced the total environment of the Navy," such as "familiarity with shipboard life .
. . a wide range of activities and assignment; and a high level of leadership."
Applicants must also have a combined verbal expression and arithmetic reasoning score of 105 on the Armed Services Vocational Aptitude Battery (ASVAB).
Education
Prospective counselors will have already put boot camp and "A" school for their original Navy job well behind them. If accepted to become a counselor, however, they must attend at least four weeks of "C" school, according to US Military Guide Rod Powers. School is in session both at ​Naval Base San Diego and Naval Station Norfolk Virginia.
Certifications and Career Outlook
According to Navy COOL, there are seven civilian certifications eligible for Navy reimbursement related to the NC rating:
Career Management Fellow
Career Management Practitioner
Certified Manager
Global Career Development Facilitator
Professional in Human Resources
Senior Professional in Human Resources
Sensitive Security Information, Certified ("teaches how to protect sensitive documents, history of espionage and levels of Sensitive security.")
All of the above certifications are labeled by COOL as "highly recommended" for paygrades E-5 through E-7 "because they complement the training, experience, and competency of that paygrade."
The typical career progression outlined by Navy Personnel Command suggests that a newly-christened career counselor shouldn't be surprised if his or her first assignment is to a seagoing ship or squadron and rotation between ship and shore duty typically occurs every three to four years.
Navy.com also points out that working as a counselor creates a number of opportunities in the civilian world after discharge (which is kind of a strange way to sell a career focused on keeping people in the Navy, but I digress.) These "people skills" careers in the civilian sector outlined by Navy.com include: