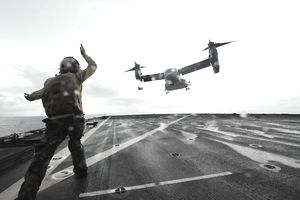 Duties and Responsibilities
A great deal of the hustle and bustle on the flight deck of a Navy aircraft carrier comes from sailors in the Aviation Boatswain's Mate (AB) rating (pronounced "bow-sun," by the way.) They're responsible for duties related to launching and landing aircraft so numerous, the rating is actually split into three specialties:
Aviation Boatswain's Mates, Launching & Recovery Equipment (ABE) operate and maintain the equipment necessary to make a crazy idea like launching a plane off the top of a boat work without killing everyone aboard. Navy Personnel Command (BUPERS) tells us that equipment includes "hydraulic and steam catapults, barricades, arresting gear . . . firing panels, water brakes, blast deflectors and cooling panels."
Aviation Boatswain's Mates, Fuels (ABF) are the sailors in charge of -- you guessed it -- keeping aircraft gassed up and ready to go. (And making sure all that fuel doesn't catch on fire, of course.)
Aviation Boatswain's Mates, Aircraft Handling (ABH) "supervis[e] the movement, spotting and securing of aircraft and equipment ashore and afloat," and also pull duty as firefighters, rescuers, and damage control specialists, according to BUPERS.
Military Requirements
Once you've graduated high school, you can qualify for duty as an aviation boatswain's mate by achieving certain marks on the Armed Services Vocational Aptitude Battery (ASVAB): All ABs must get at least 185 points total from a combination of verbal expression, arithmetic reasoning, mechanical knowledge, and auto/shop categories on the test.
In addition, ABs need to have 20/100 vision that is correctable to 20/20, as well as normal hearing and color perception.
There are no specific citizenship or security clearance requirements, although, like all future sailors, applicants must meet the mental and moral requirements necessary to serve the US faithfully on sea and shore.
Though not strict requirements, the AB rating information card at Navy Credentialing Opportunities On Line (COOL) advises potential applicants that they should be physically fit enough to handle working "outdoors on the deck of aircraft carriers, in all climatic conditions, in fast-paced and often potentially hazardous environments." It also doesn't hurt to be skilled at working with your hands and as a member of a multidisciplinary team.
Education
After basic training, sailors are assigned to technical training ("A" school) for one of the three AB specialty ratings based on stated preference and (most importantly) the needs of the Navy. All three "A" schools are located aboard Naval Air Station (NAS) Pensacola, Florida, last five to six weeks, and include training in "[a]viation basic theory," according to COOL's rating information card. Beyond that, the curricula are specific to the job at hand.
Launch and recovery personnel are trained to perform mechanical maintenance on hydraulics and other equipment, as well as operate the catapults and arresting gear that allows planes to launch from and land on carrier decks instead of falling in the drink. The American Council on Education (ACE) Military Guide suggests that the course might be worth "1 semester hour in industrial equipment maintenance."
Fuel technicians are trained in the day-to-day operations of aircraft refueling, as well as maintaining all the necessary equipment, testing fuel quality, handling hazardous materials, and putting out fires (yikes.) The ACE Guide recommends credits in "ground operations and aircraft servicing," "industrial maintenance practices," and/or "hazardous materials."
Aircraft handler training emphasizes on firefighting, cardiopulmonary resuscitation (CPR), rescue, and aircraft recovery, as well as ​the use of protective equipment and use of heavy equipment like forklifts. Possible college credits recommended by ACE include "aircraft ground handling," "industrial safety," "firefighting strategy," and "heavy equipment operations."
Certifications and Career Outlook
Navy Credentialing Opportunities On Line (COOL) outlines numerous civilian-equivalent certifications related to work in the AB field, which are eligible for testing-fee reimbursement from the Navy or the GI Bill. 
The United Services Military Apprenticeship Program (USMAP) also offers the chance to earn a journeyman apprenticeship in several fields, based on specific duties and work experience. In general, all three specialties are eligible for Department of Labor-sponsored apprenticeships in fields including crash, fire and rescue firefighter and bulk fuel specialist.