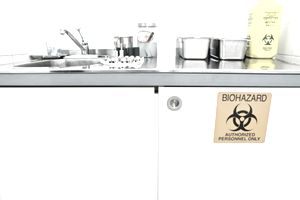 Progress was slow over the last century, but these days many industries are recognizing it's a pretty good idea to make sure their workers on the ground don't come down with any major diseases or medical conditions as a result of on-the-job exposure. Likewise, the healthcare industry of the 21st century is moving away from a simple "cure" model to recognize that prevention is vital to keeping a population healthy.
As the youngest of the military branches, you'd expect the Air Force to keep up with these latest trends, which is why their enlisted medical career field includes more than just medics and X-ray techs. Airmen who enlist in Air Force Specialty Code (AFSC) 4B, the bioenvironmental engineers, are charged with taking care of their fellow zoomies before it's time to go to a clinic, by making sure the workplace meets health and safety standards.
Duties and Responsibilities
Basically, wherever preventable hazards or contamination can harm Air Force personnel (or the environment, for that matter) bioenvironmental engineers are on the job. They're responsible for anticipating, investigating, and correcting hazards in a diverse array of settings on an Air Force base, from the quality of drinking water and swimming pools to the dangers of radiation exposure.
In fact, here are just a few of the many environmental hazards that 4Bs are expected to investigate, as quoted from the Air Force Enlisted Classification Manual: Waste treatment and solid waste disposal systems, potential pollution sources, chemical spills, noise pollution, air quality, and ergonomics.
In any scenario, the bioenvironmental engineering airman performs many tasks, such as collecting data, taking environmental samples and readings, compiling reports, performing hazardous waste disposal, calibrating equipment, and coordinating with federal, state, and local environmental agencies.
Military Requirements
Only a high school diploma is accepted for entry into the bioenvironmental engineering field.
(Sorry, a GED won't cut it for this one.) Unlike many other AFSCs, this one also specifically requires completion of a high school course in Algebra I in order to qualify, while additional "courses in Algebra II, physics, chemistry, biology, and English composition" are considered "desirable," according to the Enlisted Classification Manual.
When sitting for the Armed Services Vocational Aptitude Battery (ASVAB), would-be cadets should concentrate on scoring well in arithmetic reasoning and verbal expression, which together make up the "general aptitude" score." That score must be at least 49 to qualify for AFSC 4B.
Other requirements for the 4B field are:
Normal color vision
Government vehicle driver's license (earned after you've already joined, but it couldn't hurt to know how to drive already)
Minimum age of 18 years (Somehow I doubt that will be a big hurdle for most applicants.)
Education
After graduating boot camp, airmen who successfully secure an assignment to the bioenvironmental engineering field move on to Wright-Patterson Air Force Base (AFB) in Ohio. That's home to the USAF School of Aerospace Medicine (or the 711th Human Performance Wing) which among other things is responsible for providing all basic job training to the 4B community.
Initial job training, according to the Air Force recruiting website, lasts only 68 days. But according to a 2013 article about bioenvironmental engineers by Airman 1st Class Alystria Maurer, a public affairs writer for the 28th Bomb Wing at Ellsworth AFB, continuing education is the name of the game in this career field. As military counterparts to the Occupational Safety and Health Administration (OSHA), 4Bs frequently attend "seminars and classes manufacturers put on for the new equipment [they] use . . . [so that they] always know the new regulations and how to use [the] equipment properly."