Gary Vaynerchuk's #AskGaryVee Book Review
Great Read for Any Sports Business Professional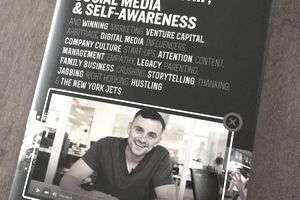 Gary Vaynerchuk has followed up on his three New York Times bestsellers Crush It!, The Thank You Economy and Jab, Jab, Jab, Right Hook with a book featuring one of the longest subtitles in recent publishing history: #AskGaryVee: One Entrepreneur's Take on Leadership, Social Media & Self-Awareness and Winning, Marketing, Venture Capital, Arbitrage, Digital Media, Influencers, Company Culture, Start-Ups, Attention, Content, Management, Empathy, Legacy, Parenting, Family Business, Crushing, Storytelling, Thanking, Jabbing, Right Hooking, Hustling and The New York Jets.
Such a long title certainly suggests a book that covers a variety of topics. And Mr. Vaynerchuk delivers, to be sure. So let's start at the end: The New York Jets. Vaynerchuk's long-stated goal is to own the Jets, which sounds like what a teenager would say, not an entrepreneur with his success. But his publicly stated desire to one day own the Jets illustrates two points about Vaynerchuk: he pursues his passions and he is not afraid to speak his mind.
Chapters to Note
And this book is written passionately.  And Vaynerchuk is not afraid to speak his mind on topics outside of business, for example, parenting. But the majority of the book, as indicated by chapter titles like "Family Business," "Leadership," "Management," and "Investing" are related to business.
Readers will also benefit from chapters examining (and titled) "Gratitude" and "Self-Awareness." It is apparent just from the few chapters mentioned already that the book delivers Vaynerchuk's 360-degree view on life and business.
So as you read it some topics will resonate immediately, while others may not seem applicable to you, in your job, right now.  Which is exactly why it deserves inclusion in your Career Library, as you will likely reference the book and re-read it in the coming years.
This site is about sports careers and Vaynerchuk shares his views on the sports industry in Chapter 20 by answering questions about how tennis is like business, American teams relocating internationally, and what team he would buy if the Jets are not for sale.
Now that we have seen what is in the book, how did it get written?
Pros and Cons
The impetus for the book is Vaynerchuk's popular web show #AskGaryVee. In each episode, he takes readers' questions and answers them. It is a simple format and it is quite successful in delivering content and real-time observations from Vaynerchuk. The book culls previously asked questions and groups them by themes and categories...and voila a new Gary Vaynerchuk book is on the shelves.
This is not to imply that there was not great care and effort in assembling the book. In some cases, answers are edited for brevity or clarity. As a result, the book has an excellent flow, despite seemingly jumping quickly from topic to topic.
Vaynerchuk's style is ideal for the short attention span we live in. He quickly makes his point...and he is off to the next topic. A benefit of this approach is that his readers are never faced with what I call  "The World Is Flat" problem. I use that term out of respect for Thomas Friedman's book, which was a best seller and nearly every business person in the last decade claimed to read and be influenced by.  Yet in my own informal survey of readers of the book, most admitted that they never actually finished the book.
Most gave up about halfway through, claiming they understood Friedman's thesis and that the book needed an editor to cut it in half.
I guarantee that will not be the case as you quickly make your way through #AskGaryVee.
Before you read the book, be sure to watch Mr. Vaynerchuk on his YouTube channel, to get a sense of his quick hitting style. I would also recommend the first 15 minutes of this keynote talk to quickly get accustomed to his delivery and insights into his childhood and early career. And if you are looking for Vaynerchuk on a news program, here he is on Bloomberg discussing Twitter and Facebook.
If you prefer listening to books, there is also an audio version of the book. Rather than a straight reading of the book, Vaynerchuk tackles the project in his own way, as he is not one to stick to the script.
This episode of his other show, DailyVee, gives a behind the scenes look at how he pulled off the content in the audio book.
Whether you read the new book or listen to it, I'm guessing you will be hooked.
Personal Experience
But this review does not end there. It seems appropriate to share my own experiences with Gary Vaynerchuk. I first saw Gary on a panel at the MIT Sloan Sports Analytics Conference in March of 2013.  (You can watch the panel here.) I was blown away.
I quickly devoured his first two books and started following him on Twitter, where he now has well over a million followers. I read the articles Gary linked to. I watched his videos. I anxiously awaited his third book. I started blogging at TheBusinessOfSports.com, in good part based on his advice to build your brand online and share your expertise.
When his third book was launched, Gary tweeted asking if any academics were adopting Jab, Jab, Jab, Right Hook in their classrooms. I was planning to and after a few more tweets and emails Gary generously offered to Skype into my class to more deeply engage with my students. I learned a lot from Gary that day in class.
As I recounted his visit to my MBA class the next semester and introduced them to Gary by watching a clip from #AskGaryVee show a student suggested we tweet in questions. As a result, mine was picked and answered in Episode 54, which also featured a question from Ashton Kutcher. (Or as I tell it, the time Kutcher and I co-starred online!) You will also find my question and Gary's response on pages 53-54 in the Education chapter of the book.
Then the opportunity to write about sports careers on TheBalance.com came along. Because I had written at TheBusinessOfSports, I had a solid portfolio and joined the team.
Then a few months ago the 170+ articles and interviews on TheBalance helped me land my latest endeavor writing about the sports industry as a Contributor to the Forbes SportsMoney blog.
I am certainly not saying that all of those things happened because of Gary Vaynerchuk. But I have no problem crediting Gary with inspiring me to make those things happen. So thank you, Gary Vaynerchuk. 
I cannot guarantee the same results if you read #AskGaryVee, but once you read the book you may view the world differently. And that is the goal of any good book, right?