Career Library: Gary Vaynerchuk's Crush It!
Monthly Book Selection to Push Your Career Forward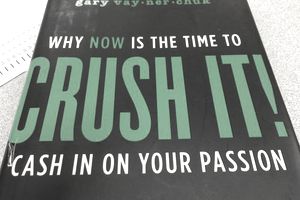 In the first two editions of our Career Library series, the featured books were David Aaker's classic The Brand You 50 and Dorie Clark's latest release Stand Out.  This month's addition is the first offering from Gary Vaynerchuk Crush It!.
Before offering some commentary on the book, a brief introduction to Vaynerchuk seems appropriate. 
Vaynerchuk rose to fame with Wine Library TV - offering unpretentious assessments of wine as an early adopter of YouTube technology.
  While building that business he penned Crush It! (2009), which was a best seller.  He followed it with best selling The Thank You Economy (2011) and Jab, Jab, Jab, Right Hook (2013).  During this time he also formed VaynerMedia, which now has more than 500 employees.
In addition, Vaynerchuk is active across social platforms - his Twitter account @garyvee has over a million followers - and as a keynote speaker on business and social media. (A good introduction to his career and personal story can be found is in this 2011 keynote.)  His recent internet program #AskGaryVee Show has surpassed 100 episodes.  It is based on viewers and celebrites asking him questions.  For an example, here is an episode featuring questions from yours truly and Ashton Kutcher.
Now, back to the book.  As Vaynerchuk describes in the introduction to Jab,Jab, Jab, Right Hook, ,  his first three books fit together so reading Crush It!
is the logical starting point for exploring his work.  The subtitle - Why Now Is the Time to Cash in on Your Passion - nicely captures one of the book's overarching themes.
Is there an activity or interest that you are passionate about?  If you can answer that question with a "yes", this is certainly the book for you as he will show you there is a way to take your knowledge and experience and turn it into a business or career opportunity.
  In fact Chapter One is entitled "Passion Is Everything".  For many seeking careers in sports, this is the common refrain: love sports - but how do I turn it into a career?  You should find Crush It! to be both inspiring and information packed.
A second theme is that the ability to create content online and build community is a key to building your personal brand.  Today, that advice seems obvious.  But remembering that this book was released in 2009, this suggestion was prescient.  Reading the book with your "2009 goggles" on will put you in a mindset that there are still tremendous opportunities for you - whether or young or old - to build a business/career around your interests.
The final theme I wanted to cover in this review is the title of Chapter Thirteen: "Legacy Is Greater than Currency".  The suggestion that thinking long-term will produce better results for you personally and professionally is an important one.  In fact, years later Vaynerchuk revisited this topic in a video, which I would encourage you to watch.
As you prepare to open a tab to go purchase the book to add it to your Career Library, I'd like to emphasize that his subsequent books are also good to consider (I'll likely write about them in future Career Library pieces).
  And that Gary is perpetually adding new video and written content at his site and on his YouTube channel.  Take a minute to watch his video introducing you to the channel and I'm sure you will be drawn in by his passion and distinctive communication style.