Career Library: Amy Jo Martin's Renegades Write the Rules
Great Read for Career Advice and Social Media Insights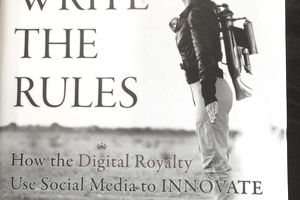 After featuring books from noted authors Tom Peters, Dorie Clark, Gary Vaynerchuk,and Susan RoAne, this month's recommended addition to your career library is Amy Jo Martin's Renegades Write the Rules: How the Digital Royalty Use Social Media to Innovate.
The book is recommended for two reasons: first as a wonderful retrospective look at the early days of social media (it was released in 2012) and because it offers excellent advice on developing a career in an entrepreneurial way.
Let's tackle the social media component of the book.  Take a look at  the eight rules Martin offers - they also serve as the chapter titles for much of the book - for social media usage (personal or professional):
Be the Media
Show Some Skin
Unmask Your Motives
Get Comfortable Being Uncomfortable
Ask Forgiveness Rather Than Permission
Consensus Is the True Authority
There's a New ROI in Town
The Act of Good Can Be Scaled
Now to get all the details of how these themes relate to social media, you will have to read the book, which I strongly recommend your doing.  Examples of specific campaigns related to each of these topics are discussed using some of Ms. Martin's early social media clients, which include some of the biggest names in sports and entertainment: Shaquille O'Neal, Steve Nash, Dwayne "The Rock" Johnson, UFC President Dana White and others.  The personal way that she shares her interactions with these stars and brands like DoubleTree by Hilton hotels makes the lessons come to life.
The second element of Renegades that makes it such a great read for aspiring and current sports business professionals is the career advice that is sprinkled throughout the book.  Within the first five pages of the book, Martin is faced with a career and life choice.
Her boss hands her a piece of paper with the following words on it:
"Choose two", she said.  "You can't have all three."

It didn't sit right with me.

My boss proceeded to explain that she'd tried it and all three wasn't possible.  If you wanted to be really good, she insisted, you had to choose two.

The antithesis of that philosophy immediately became a personal challenge.  A few weeks later, I gave her my notice and then set out to have all three in abundance.
And that launches the story of Martin's entrepreneurial career in social media and her pursuit of the mythical work/life balance.  One of the reasons this book is so powerful is the author's willingness to share soul-baring moments when everything did not go well on her journey. 
In summary, the book is topically appropriate for anyone working in the sport, entertainment or social media space.  But the lessons offered are not limited to just those fields.   The entrepreneurial theme of becoming a Renegade can apply to anyone working in the fast-changing 21st century economy.
It is amazing how much the work environment has changed since the book came out in 2012.  But the willingness to challenge tradition and authority that Amy Jo Martin writes about continues to ring true.
As does her willingness to take risks.
  I have used this book multiple times in sports business classes that I teach and the response from the women in the class to this book is consistently positive.
For young readers - female or male - who are looking for inspiration, this book has it.
And each time you re-read the book you can identify different themes and topics that are applicable as you face new experiences, opportunities and challenges in your professional career.
So whether you buy the book and keep it on a shelf or buy it electronically and store it on your favorite electronic device, this is the kind of book you will come back to repeatedly.
**Post-script:  After reading the book, you will undoubtedly be interested in more up to date information on Amy Jo Martin and her company Digital Royalty.  You can read more on the company blog and watch associated video content on an ongoing basis.
You can also follow Ms. Martin on Twitter @AmyJoMartin.