Career Lessons from Warriors Andre Iguodala
Career of 2015 NBA Finals MVP Has Lessons for Your Career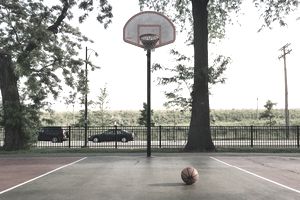 The Golden State Warriors set an NBA record for wins in a single season in 2015-16 by eclipsing the 1995-96 Chicago Bulls previous record of 72-10.  Those Bulls are often referred to as the Jordan/Pippen Bulls teams, as they were considered the team leaders as well as the team's top players.
Looking at the roster of that Bulls team, there were other excellent players who contributed to the team's success, including Hall of Famer Dennis Rodman, Ron Harper, Steve Kerr, Toni Kukoc and Luc Longley.
  (Fun historical footnote: Warriors coach Steve Kerr and Michael Jordan were the only players to appear in every game for the Bulls during that season.)
A handful of stars is not enough to push a team to greatness - a general manager and coach have to work together to assemble a roster of players who can accept a supporting role, but still perform at a high level.
The 73 win Warriors team is anchored by the "Big Three" of Stephen Curry, Draymond Green and Klay Thompson. The starting line up includes Andrew Bogut a former #1 overall pick in the 2005 NBA Draft and Harrison Barnes who is poised for a big contract in free agency playing supporting roles. 
The roster also features veterans like Shawn Livingston, Leandro Barbosa, and Andre Iguodala coming off the bench.  Of that group of thirtysomething veterans, Iguodala has had the most illustrious NBA career.  His career story includes the decision to come to Golden State as a free agent and successfully chase an NBA title.
  Here are some lessons you can ​learn from how Iguodala has performed during his career.​
You Can Make Your Reputation Early in Your Career
Iguodala was the ninth overall pick in the 2004 NBA Draft after playing two seasons at the University of Arizona.  He made an immediate impact on the Philadelphia 76ers, earning a starting position from the first game of his career.
  His talents as a defensive player were immediately apparent, and he was named to the All-NBA Rookie team after his first season.  He increased his scoring, rebounds, and assists in the subsequent years and by 2012 was named an All Star.
In his first eight seasons "Iggy" established his reputation as a good scorer, great defender and stat sheet stuffer with a versatile game - as demonstrated by averaging better than five assists per game.  In your first five years as a professional, what do you want your reputation to be?  How will you develop your skills to create a strong personal brand?
Job One: Showing Up
The wear and tear of an NBA season is unrelenting.  Players battle through minor injuries on nearly a daily basis.  Treatment from trainers, massage therapists and chiropractors is simply a part of the job.  And despite players' best efforts, they miss playing time.  Some are malingerers.  Some are afraid to play through the injuries for fear of playing below their abilities, which could hurt their future earning potential.
In Iguodala's first six seasons with the 76ers, he played in every game in five of those seasons and missed just six games in the other season.  So on average, he played in 81 of 82 games each of those seasons.
  Can you be that person who is viewed as reliable and able to persevere through the "minor injuries" of your personal and professional life to show up to work ready to get the job done every day?  Being that kind of teammate is part of Iguodala's personal brand.  Can you stay focused to make it part of your reputation?
The Next Opportunity Will Come
After two more seasons in Philadelphia, Iguodala was dealt to the Denver Nuggets, where he played for one season, and the team finished 57-25, by far the best mark of any team he had played on.  He then reached free agency and inked a four year, $48 million with the Golden State Warriors, the team that eliminated the Nuggets from the  NBA Playoffs.
For the first time in his career, Iguodala had the chance to pick his employer - a far different situation than most employees.
  You are in a perpetual state of "free agency," able to leave one firm to pursue opportunities with another firm (or in a different industry) at any time.  Sometimes some patience is required, but new opportunities will always emerge for you.
Roles Change 
His first season in Golden State Iguodala started every game in which he played.  To that point in his career, Iguodala had started all 758 games he had appeared in as an NBA player.  The following season Steve Kerr took over as head coach and decided that Iguodala could enhance the team's performance by coming off the bench.
You can be certain that was an uncomfortable conversation between Kerr and Iguodala.  But Iguodala accepted his role and put forth his best effort throughout the season, finishing fourth in the NBA Sixth Man Award balloting.  But the story does not end there, of course.
In the 2014-15 NBA Finals, Iguodala was inserted back into the starting line up - a move that changed the flow of the series and helped bring Golden State its first NBA Championship in 40 years - and he was named the Most Valuable Player of The Finals.
In your own career, there will be times when your boss asks you to take on a different role, perhaps even one that damages your ego or that you feel you are overqualified for.  But as Iguodala's story shows, you still have to prepare and perform.  And in some cases, it will change the arc of your career.
The four lessons from Iguodala's career - making your reputation early in your career, showing up ready to play, being patient in evaluating opportunities and being accepting of role changes - may not seem to apply to you and your career at any given moment.  Rather they are overarching themes that you may need to focus on at different points in your career.  And Iguodala's career is still a work in progress - just like yours - so keep watching him for other pointers.