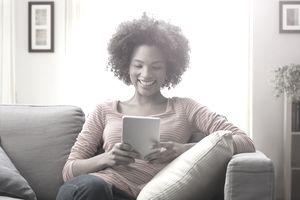 With so many different career websites out there, it's hard to know if you're getting a good deal. In the best case scenario, online tools would be free, easy to use, and consistently helpful, but good career websites can be difficult to find.
Luckily, you can snag some good sites to try from someone who definitely knows a thing or two about what makes a great career advancement resource.
There are websites, most free, where you can figure out whether you should be getting paid more money, sites where you can create a professional website to showcase your skills, sites where you can enhance those skills to give your resume a boost, and others where you can make connections that will help your career.
Yarden Tadmor, the founder and CEO of Switch, the mobile job search app for people with jobs (free on iOS, Android) who are discreetly looking for their next career move, shares ten of his favorite websites, and online tools to easily and efficiently propel your career forward in no time, and in many cases, for free.
10 Websites to Help You Advance Your Career
1. GetRaised
One of the biggest problems in the world of careers is knowing whether or not you're being paid adequately. GetRaised makes it easy: Type your job description and salary into GetRaised and its algorithm will tell you whether or not you're being underpaid.
Based on your results, GetRaised's experts will help you create a plan for approaching your boss about the negotiation process and getting the salary bump you deserve. There's a reason why the average raise for GetRaised users is over $6,000: It works.
2. About.Me / Branded.Me
Creating a professional website can be stressful and expensive.
Instead, you can show off your best self to employers using About.me and Branded.me, which are simple, free tools to create compile your digital presence in one professional looking place.
Both platforms are made to be user-friendly, so with a nice headshot, links to your social media profiles, and a quick bio, you're already in business (and can keep adding more information, like your job history, from there).
You can even add your About.me or Branded.me profiles to the bottom of your work emails, giving them that extra professional touch (and impressing anyone you're sending them to).
More Information: Get a Free Branded.Me Website
3. Comparably
Comparably is different than other salary calculators because not only will it tell you if you're underpaid in your industry, but it'll also give you an idea of culture fit compared to other people in similar positions at different companies.
After all, what's the point of simply knowing your salary if you could get a better salary and be happier elsewhere?
4. Fiverr
Fiverr is a "gig" marketplace that allows you to sell your expertise to people who really need it. Whether you want to further develop your skills, grow a client list, make a little extra cash, or keep yourself busy during the job hunt, Fiverr has a growing marketplace for you to put your abilities to the test.
5. Meetup
Meetup isn't just a place to find cool things to do on the weekends; the site also provides valuable networking opportunities for professionals in any city within virtually any industry. The possibilities are also endless for what these groups do: You could be attending a panel with some of the hottest companies in your field, or joining a book club and reading with like-minded professionals.
The choice is yours.
For example, one great network to check out is the Startup Job Fair that connects dream startup employers with the best talent.
6. High Brow
Some learning platforms cost lots of money or take so much time to complete. Instead, High Brow is a free email subscription that sends "bite-sized" lessons to you every morning on any number of topics.
Recent courses have included everything from HTML/CSS basics and inbound email marketing to guides to seed fundraising and the science of happiness.
Most lessons are only around 10 days long and about five minutes per day, giving you exactly the information you need broken down so you can learn it quickly.
More Free Courses: 10 Free Online Courses on Coursera
7. Skillshare
Over one million people have used Skillshare's online learning platform to acquire new skills and make themselves more marketable to potential employers and clients.
Skillshare offers a combination of free and premium courses, allowing you to get a taste of any course and instructor before deciding to dive in fully.
8. Opportunity
Opportunity is a networking tool that actually provides you with many opportunities: The site acts as a networking platform, job listing alert system, sales lead tool, and partnership breeding ground. Unlike other networking sites, Opportunity uses an algorithm to ensure that you're meeting people who can actually advance your career so that you can spend less time searching and more time making valuable connections.
Opportunity also has a free webinar to teach you how to get the most out of the site, ensuring that you're connecting to the right people from the beginning.
9. Inside Jobs
It's intimidating to have a general career goal and no idea how to get there. That's where Inside Jobs comes in: The website narrows down a career trajectory, figures out the type of education and skills you need to get there, and shows you the best resources to learn what you need to know.
The website also features a Career Finder to help you research your leads and see what life is like in terms of skills, salary, and responsibilities for a number of jobs.
10. Career Bliss
It's easy to get caught up in salaries, job responsibilities, and office environment, but Career Bliss is one of the only websites to put your general satisfaction and job happiness above everything else.
Career Bliss allows you to research company salaries to compare, read company reviews from a variety of fields, and get job advice to advance your career.
Suggested Reading: 7 Free Apps for Job Searching | 6 Best Tips for Using Job Apps