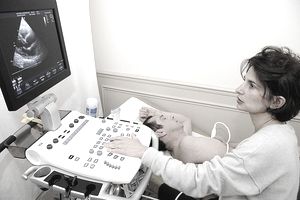 Job Description:
A cardiovascular technologist (CVT) helps doctors diagnose and treat cardiac and vascular problems. He or she may use non-invasive procedures, including ultrasound, or invasive procedures, which involve inserting probes, such as catheters, into patients' bodies.
There are sub-specialties that fall under this occupational title. A cardiology technologist monitors and treats problems with the heart.
A vascular technologist monitors and treats blood flow abnormalities. An echocardiographer, also called a cardiac sonographer, uses ultrasound equipment to take images of the heart and valves.
Employment Facts:
There were approximately 49,000 cardiovascular technologists employed in the United States in 2010. The majority worked in hospitals, but some were employed in medical laboratories, outpatient facilities and doctor's offices.
Heart and vascular illnesses don't adhere to a 9 to 5 schedule and because of this many who work this field can't either. Cardiovascular technologists often work odd hours in order to respond to health emergencies.
Most people prepare for this occupation by earning an associate degree at a community college. These two-year programs typically consist of coursework and clinical training under the supervision of an experienced technologist.
Some choose to instead earn a bachelor's degree which will take four years. Another route is to earn an associate or bachelor's degree in radiologic technology or nursing followed by on-the-job training. Look for an accredited program since that is often required for certification or registration. The Commission on Accreditation of Allied Health Education Programs accredits cardiovascular technologist programs.
Why Do You Need to Know About Educational Requirements?
Other Requirements:
Although states don't currently license cardiovascular technologists, it is difficult to find an employer who doesn't require certification or registration. Cardiovascular Credentialing International (CCI) is one organization that oversees certification and registration of CVTs. Many employers require their CVTs to have ACLS (Advanced Cardiac Life Support) and BLS (Basic Life Support) certification.
In addition to your classroom and on-the-job training, in order to succeed in this field you need certain characteristics. It is important that you evaluate whether you have these qualities when deciding whether to become a CVT. Are you detail oriented? This quality will allow you to follow physicians' instructions. Do you have good interpersonal skills? This is important because you will have to communicate with your patients. Are you physically fit? You will be required to move and lift patients, as well as stand on your feet for long periods of time.
Job Outlook:
The US Bureau of Labor Statistics predicts a very bright future for cardiovascular technologists. It will grow faster than the average for all occupations through 2020 and will be among the fastest growing careers that require an associate degree.
Why Do You Need to Know About Job Outlook?
Earnings:
Cardiovascular technologists earned a median annual salary of $51,020 in 2011 and $24.53 hourly in 2011 (US).
Use the Salary Wizard at Salary.com to find out how much a cardiovascular technologist currently earns in your city.
A Day in a Cardiovascular Technologist's Life:
On a typical day a cardiovascular technologist's tasks might include:
using ultrasound equipment to take images
helping a physician insert a catheter through a patient's artery
preparing a patient for a diagnostic procedure
taking patients' medical histories
analyzing images and discussing them with physicians
Sources:
Bureau of Labor Statistics, U.S. Department of Labor, Occupational Outlook Handbook, 2012-13 Edition, Cardiovascular Technologist, on the Internet at http://www.bls.gov/ooh/healthcare/cardiovascular-technologists-and-technicians.htm (visited October 01, 2012).

Employment and Training Administration, U.S. Department of Labor, O*NET Online, Cardiovascular Technologist, on the Internet at http://www.onetonline.org/link/details/29-2031.00 (visited October 01, 2012).