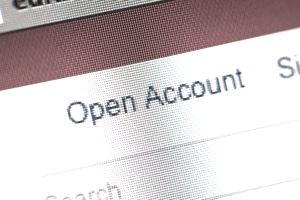 These days you can do everything online. You probably already know about paying bills and transferring money online, but you might be surprised to find out that you can even open bank accounts online. That means one less trip to the branch, and you don't even need to fire up your printer.
What You'll Need
Opening a bank account online is a bit more involved than signing up for a free email account; you'll need to get a few things together before you start the process.
For most banks, you can get up and running with the items listed below.
Personal information: you'll need to tell the bank who you are and provide personal details about yourself. Your Social Security Number or equivalent, date of birth, and any government-issued ID (driver's license, passport, U.S. military ID, etc.) will be required.
Contact information: what if the bank needs to get in touch with you? You'll need to provide an address, phone number, and email address. Even though you're operating in the virtual world, federal law requires that you provide your physical address – where you actually live – but you can also provide a P.O. Box or similar as a mailing address.
Funding information: how will you add funds to the account? Banks often require an initial deposit to get your account opened. To do that, you can use a credit or debit card, or provide routing and account numbers to create a link to another bank account
No Forms? Ever?
With some banks, you're done opening your account once you've provided the information above. You'll sign any legal agreements with an "E-signature," and you can start using the account almost immediately.
Other banks let you get things started, but they'll eventually need a signature.
Typically you'll get something like a "Welcome Kit" in the mail (so at least you don't need to print anything yourself) with any required documents. For example, your bank might want to get your signature so they know what it looks like when you write checks or sign for debit card purchases.
If you intend to use the account quickly, call the bank and ask what the process is (or chat with customer service online). If the bank needs your signature on paper, you'll need to wait longer before using your account – and that might create problems if you made a significant initial deposit. You might be better off opening an account in person, or going with a bank that lets you open an account entirely online.
Challenges Opening an Account Online
In some cases, you won't be able to open a bank account online – you'll need to visit a branch or provide additional documentation to get an account. Some common reasons include:
"Thin" credit: banks verify your identity as you open your account. One of the ways they do this is by checking your credit (yes, they'll check your credit even if you're not going to borrow money). If you don't have much of a credit history – because you're young and you haven't borrowed enough to build credit, for example – they won't find anything.
As a result, they'll commonly ask that you visit a branch with a government-issued ID to open your account.
Under 18: people under the age of 18 cannot open bank accounts on their own. If you're under 18 and want to use a checking or savings account, there are options out there, but you'll need an adult (not necessarily a parent) on the account, and you might need to visit a branch in person.
Checking account history: if you've overdrawn checking accounts (or bounced checks) in the past, you might not be able to open a bank account online. Be sure to review your Chexsystems report for errors if you're having a hard time getting an account. Again, you might have better luck at a branch.
Citizenship: it's easiest to open an account online if you're a US citizen. That doesn't mean it's impossible if you're not a citizen, but a visit to the branch might be necessary.
Entity accounts: most banks with online account opening allow people to open an account. If you need an account for a business, trust, or other organization, there's a good chance that you'll need to head to the branch (or submit account forms by mail). The ability to open these accounts online is increasingly available, but it's still not the norm.
Where to Open an Account
Almost any financial institution will let you open an account online (they might require signatures on paper later, but they'll get the ball rolling and mail forms to you). Even small credit unions and regional banks accept E-signatures. If you have an idea of where you'd like to bank, simply visit that institution's website and look for an option to "Open an Account Now."
If you're having any difficulty, your best bet for getting an account opened online is to use an online bank – they've been doing this for years. Captial One 360 (read a review), Ally Bank (read a review), and others offer great accounts and a smooth online experience.