Buying in a Soon-To-Be Hot Neighborhood
10 Signs a Neighborhood is About to Become Hot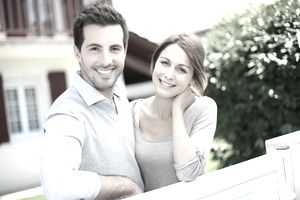 When things become cool and trendy, prices tend to go up, and it's no different in real estate when an up-and-coming neighborhood suddenly becomes a hot place to live. The goal for many first-time home buyers is to buy into a neighborhood before it becomes hot, when home prices are still affordable. But it's a somewhat risky proposition if you buy into a neighborhood that remains stagnant or worse, declines in value, and that can always happen.
1) The Avant Garde
How do you know if a neighborhood is likely to become hot? The first step is to think about the coolest people you have ever met or perhaps have never had the pleasure of knowing but you know they are hip in ways that you would never be. These people are probably musicians, artists, writers and actors, many of whom struggle to grab a foothold in their professions, which is not necessarily a financially rewarding life when one is just starting out.
These types of people are often the first inhabitants of up-and-coming neighborhoods as renters. Keep an eye on where they settle, where tenants live. They are drawn to beauty others do not readily see. And they seek affordable housing.
But not every new neighborhood is first settled by creative types. Some are repurposed.
2) Transitional Neighborhoods
Next, look for neighborhoods right on the edge of desirable, hot areas, close to downtown or a central urban area. As neighborhoods become too exclusive and too expensive, home buyers will often spillover to the other side of the street, seeking affordability. They might reason it makes more sense to save $100,000 or more, for example, and buy a home one block away from their targeted area. A few more people catch on and before you know it, that area on the edge morphs into a transitional neighborhood, fully positioned to be the next hot thing.
3) Neighborhood Pride
An easy way to build recognition within a community and to instill a sense of neighborhood pride is by reclaiming and promoting your new neighborhood. Informal neighborhood groups spring up, committees form, and before you know it you spot special flags touting the neighborhood on lampposts. Then, media talks about the neighborhood by name, and it takes off. Seasonal celebration days, family picnics, gatherings in the park, parades, music festivals, all tend to build favorable impressions of the area.
4) Revitalization and Major Construction
Look for signs of commercial construction, hospitals, office buildings and high rises. When construction costs rise, developers tend to look for cheaper parcels to build upon. Buying land in a lower demand area is often much less expensive.
In a handful of cities across America in which a scarcity of cheap lots exist, some developers look at plots of land nobody else wants or would dream of developing such as toxic railroad yards or landfills of garbage or swamps. Next thing you know, they'll be buying nuclear reactors and building homes on top of them.
5) Government Funds for Rehabilitation
A sudden flush of funds available through government programs at low-cost rates or through a special subsidy program offered to homeowners is another way to encourage a neighborhood turnaround. Get those residents busy putting on new roofs, replacing windows and fixing exteriors. You might see plans for new street lighting installations, too.
6) Mix of Old and New
It is not unusual in transitional neighborhoods to find infill development. This is where developers buy a lot or tear down an old house to build new, which begins to introduce modern building designs to an older neighborhood. You might spot a 3-story, glass-and-steel apartment building next to a Craftsman, for example. There are pros and cons to mixed-use new construction because some say gentrification takes over and forces out the original residents of a neighborhood.
7) Higher Rents
If housing costs suddenly seem to escalate, that's a sign that the neighborhood is in transition. Investors are typically always on the lookout for ways to increase rent and boost bottom-line profits, and they will often notice a soft spot in the market before anybody else. Some investors will renovate their apartments to make higher rents appear as an attractive option to tenants. If it costs more to rent a home in the neighborhood than to buy a home, it means you're probably buying at the right time, right before the area becomes hot.
8) Restaurants and Retail Bloom
When the old hole-in-the-walls freshen up their exteriors, attach flower pots and hang sparkly signage, specialty restaurants are not far behind. A bakery here, a sushi joint over there, a coffee house, little shops will encourage larger restaurants to move in and set up. Trendy dress boutiques and t-shirt stores might spring up. When there are residents with the financial means to support these business, the areas will begin to flourish.
9) Crime Goes Down and Employment Goes Up
In some cities where crime is rampant, the unemployment rate is very high. Some would argue that crime is an employer. But people who hold traditional paying jobs tend to make neighborhoods more secure and stable. When crime declines, more families want to move in. Economic feasibility that accompanies long-term employment can make mortgages more attractive than renting; people want to build equity and a future.
10) Easy Commute to Work
People who don't care how far they have to drive to work will often move to the suburbs. Urban workers who don't want to do a freeway crawl to work often will buy a home in a transitional neighborhood just to be closer to their job. They don't always think about buying in a hot area before it becomes hot as much as they want a short commute. The area turning hot might be a small benefit to the short-sighted, but that fast transportation downtown is generally a crucial factor for any neighborhood on the verge of housing appreciation.
At the time of writing, Elizabeth Weintraub, BRE # 00697006, is a Broker-Associate at Lyon Real Estate in Sacramento, California.