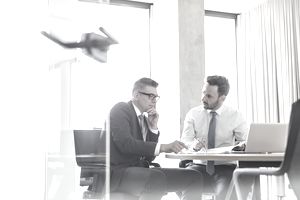 Careers in business are wide-ranging, and any list of job titles is only scratching the surface of potential positions and career paths you can pursue. We've put together a list covering some prominent categories to get you started. 
You can use this list to get a sense of the jobs that are out there, or even to get ideas for alternative titles for your own position. The same job can go by many different names, and if you don't like your current title, it is possible your boss will let you change it, if you ask and provide good reasons.
 
Business Job Titles
Some titles exist in virtually every aspect of every industry, such as administrative assistant, office manager, branch manager, and operations manager. Others are specific to certain divisions that most, but not all, businesses have, such as accounting or human relations or resources, while others are specific to a certain industry, such as finance or insurance. The following is a brief overview of some of the major categories.
Accounting Job Titles
Accounting involves keeping track of the finances of businesses and, at times, individuals. In general, the responsibility of an accountant is two-fold: to make sure money is not lost accidentally, through simple error; and to make sure that all applicable laws and regulations are followed.
Some accountants work within businesses, organizations, or government agencies and serve simply to keep their employers accounts in order.
These include bookkeepers, comptrollers, and treasurers. Others work for specialized accounting firms, such as credit managers and tax specialists. Still others work for the Federal government and serve in a regulatory or enforcement capacity, such as auditors. Many are involved in tax preparation, and may work freelance for individual clients.
Human Resources Job Titles
As businesses grow, they often create human resource departments to manage and enact the often-extensive policies and regulations involved in the management of employees. Titles here can be rather general, such as human resources manager or employee relations specialist, or very focused, such as benefits officer, retirement plan counselor, or compensation analyst.
Financial Job Titles
There are many avenues to pursue in a career in financial management, also sometimes called fiscal management or wealth management. In these jobs, you help individuals and businesses manage their finances, so as to negotiate tax rates and regulations and get the best possible return over time. 
Financial advisers work as consultants to individuals or businesses. The compensation structure often includes residuals, meaning that work performed years earlier continues to pay. As a result, financial advisers can be very well compensated and have very flexible work loads.
Hedge fund managers and hedge fund traders work for very specific types of high-risk/high-return investment opportunities that investors can buy into.
Loan officers and mortgage bankers are involved in types of finance more familiar to most people, the lending of money for business or real estate purposes.
Information Technology (IT) and Digital Media Job Titles
Just about every employer relies on information technology. Some larger businesses or organizations create their own IT departments, while smaller ones might hire a single IT specialist or rely on outside contractors. There are also businesses that specialize in various aspects of information technology, such as software development. For individuals who have the right skill set, IT is a very reliable source of employment.
Common titles include webmaster, social media manager, and systems administrator. Because some of these positions are relatively new, titles are far from standardized and can be somewhat creative, such as social media guru. Software development companies employ people in a variety of positions, such as full stack developer, mobile developer, and software engineer.
List of Business Job Titles
These titles can apply to just about any type of business.
Account Executive
Administrative Assistant
Administrative Manager
Branch Manager
Business Analyst
Business Manager
Chief Executive Officer
Office Manager
Operations Manager
Quality Control Coordinator
Risk Manager
Service Representative
Accounting Job Titles
Accounting careers involve keeping track of the financial accounts of companies.
Accounts Receivable/Payable Specialist
Assessor
Auditor
Bookkeeper
Budget Analyst
Cash Manager
Chief Financial Officer
Controller
Credit Manager
Tax Specialist
Treasurer
Financial Job Titles
There are many avenues to pursue in a career in financial management. In these jobs, you help people and businesses manage their finances. When helping people, this area of specialization is often called wealth management.
Certified Financial Planner
Chartered Wealth Manager
Credit Analyst
Credit Manager
Financial Analyst
Hedge Fund Manager
Hedge Fund Principal
Hedge Fund Trader
Investment Advisor
Investment Banker
Investor Relations Officer
Leveraged Buyout Investor
Loan Officer
Mortgage Banker
Mutual Fund Analyst
Portfolio Management Marketing
Portfolio Manager
Ratings Analyst
Stockbroker
Trust Officer
Human Resources Job Titles
As businesses grow in size, they often create human resource departments to navigate the extensive policies and regulations involved in the management of employees.
Benefits Officer
Compensation Analyst
Employee Relations Specialist
HR Coordinator
HR Specialist
Retirement Plan Counselor
Staffing Consultant
Union Organizer
Information Technology (IT) and Digital Media Job Titles
Just about every business relies on IT positions, whether they create their own IT department or hire outside information technology consultants. And those who specialize in digital media and technology will find plenty of positions in business.
Business Systems Analyst
Content Manager
Content Strategist
Database Administrator
Digital Marketing Manager
Full Stack Developer
Information Architect
Marketing Technologist
Mobile Developer
Project Manager
Social Media Manager
Software Engineer
Systems Engineer
Software Developer
Systems Administrator
User Interface Specialist
Web Analytics Developer
Web Developer
Webmaster
Insurance Job Titles
Working in the insurance industry involves helping people and businesses guard against financial loss and manage risks.
Actuary
Claims Adjuster
Damage Appraiser
Insurance Adjuster
Insurance Agent
Insurance Appraiser
Insurance Broker
Insurance Claims Examiner
Insurance Investigator
Loss Control Specialist
Underwriter
Real Estate Job Titles
Real estate careers are usually in either residential or commercial real estate. Residential real estate deals in personal properties. Within commercial real estate, you can specialize in the buying and selling of commercial (business) properties or the brokering of purchases and sales of the businesses themselves.
Business Broker
Business Transfer Agent
Commercial Appraiser
Commercial Real Estate Broker
Real Estate Officer
Residential Appraiser
Residential Real Estate Agent
Residential Real Estate Broker
More Job Titles: List of Job Titles and Descriptions