Business Analyst Skills List and Examples
Core Competencies Plus General Skills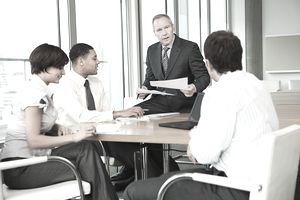 Professional business analysts play a critical role in a company's productivity, efficiency and profitability. Important skill sets range from communication and interpersonal skills to problem-solving and critical thinking. Business analyst skills can hone their skills through executive education programs and eventually earn a Certified Business Analysis Profession (CBAP) certification by the International Institute of Business Analysis.
How to Use Skills Lists
You can use skills lists like these throughout your job search process. First, use the names of these skills as keywords when you go to write your resume. Don't assume hiring supervisors can figure out that you have what they want. 
When you find a job you want to apply for, read the job description thoroughly and research the company. This way, you will know what skills this particular business prioritizes and you can highlight these in your cover letter. Use this discussion to prepare for likely possibilities so that you can assemble your application materials quickly once you find the vacancy you're looking for.
Finally, use this discussion to plan your interview. You will probably be asked for examples of your skills, so make sure you can describe at least one instance of a time you demonstrated each skill you want to highlight.
It may also help to review our lists of skills listed by job and types of skill.
Business Analyst Core Skills
Communication Skills
As an effective communicator, you must to able to facilitate work meetings, ask the right questions, and actively listen and take in new information. The ability to communicate proficiently in person, on conference calls, in meetings both digital and otherwise, and through email is essential.
Business analysts spend a significant amount of time interacting with clients, users, management, and developers. A project's success may revolve around your ability to clearly communicate things like project requirements, changes, and testing results.
Problem-Solving Skills
Every project you work on is, at its core, developing a solution to a problem. Business analysts work to develop a common understanding of problems, outline the parameters of the project, and determine potential solutions.
Negotiation Skills
A business analyst is the intermediary among a variety of people with various types of personalities: clients, developers, users, management, and IT.
You have to be able to achieve a profitable outcome for your company while finding a solution for the client that makes them happy. Balancing both takes persuasion skills to reach a mutual solution while maintaining professional relationships.
Critical Thinking Skills
Business analysts must analyze multiple choices before leading the team towards a solution. This requires a critical review of data, documentation, user input surveys, and workflow. They ask probing questions until every issue is evaluated in its entirety and fully understood before a course of action can be determined to resolve the problem.
General Business Analyst Skills
Besides the core skills, employers will also be looking for more general skills and attributes.
Personal Attributes
Sought-after personal attributes include adaptability and the ability to work in a fast-paced environment with cross-functional teams. You'll need analytical thinking, attention to detail, and creativity. You'll need to have strong organizational skills, the ability to multitask, and the ability to act as a strong but diplomatic leader.
Interpersonal/Communication Skills
You will need strong interpersonal and communication skills in order to help your team work together and in order to provide good service. These include facilitating meetings, giving presentations, conflict resolution, and the ability to both negotiate and influence others.
Computer Skills
As a business analyst, you'll need to be able to use many types of software, from the popular Microsoft Office Suite, to less common packages, like SharePoint, Visio, and Software Design Tools. You will need to stay abreast of new developments in relevant IT as well.
Analytical Skills
Of course, a business analyst needs analytical tools, from designing and implementing tests of processes to forecasting and gap analysis. Don't forget research, statistical analysis, risk assessment, and financial planning, and much more.
Related Articles: Soft vs. Hard Skills | How to Include Keywords in Your Resume | List of Keywords for Resumes and Cover Letters | Skills and Abilities | Resume Skills List