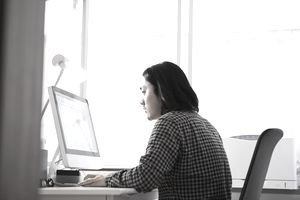 If you are in the tech space, showcasing your work is important, especially if you're trying to move into a new position. And in this industry more than any other, it's crucial to have an impressive digital presence. One of the best ways to do this is to create an online resume and/or portfolio website.
Not sure how to start? Here are tips and tools you can use to master the perfect online portfolio.
(And if you're looking for ideas of things to add to your portfolio site, make sure to check out this mega list of things to include on your portfolio site!)
Step 1: Consider Your End Goals
Are you looking for new work? If so, are you more interested in a full time position or a freelance job? Or are you perfectly content in your current role?
According to personal branding expert Joyce Akiko,
"Crafting an online brand is the first step in landing a new job when you don't have a degree or previous work experience in that area. Making sure it aligns with your end goals is key -- do your research up front."
If you're especially eager to move into a new field, spending extra time crafting an online identity will be worthwhile.
Step 2: Create A Portfolio to Showcase What You Want Others to See
If you're currently in sales but are dying to get into web design / development, don't make a website all about your sales experience.
Focus on creating an online identity that caters to your dream career.
Rather than including every previous position you have attained, emphasize your strengths in the area you are trying to move into. Stress the relevant skills and education that support your goals.
Demonstrate your knowledge and expertise by writing articles in that space.
Position yourself as a master of your craft.
Step 3: Take Advantage of Online Portfolio Builders
If you're already an experienced designer / web developer and know how to build a website / online resume -- great.
But if not, here are six helpful online portfolio builders to look into.
Moonfruit is a website-building platform that comes with varying themes and designs, so you can choose whichever one you feel best matches your goals.
The templates, which include automatic SEO integration, are built with HTML5, the latest web standard. This is better for compatibility with newer browsers and mobile devices.
On Moonfruit, the base service is free. They also offer three premium packages that range from $12-$35/month and feature additional storage, bandwidth, domain names, and more.
Wix is a great platform for those who lack web development experience, as no coding is required. It's ideal for portfolios, and you're able to purchase your own domain name. The company offers 24/7 support in case you encounter any problems.
Base service is free here as well; their five premium plans range from $4.08-$24.90/month and feature additional storage, ad vouchers, and premium support, among other things.
Wordpress is a multi-use platform that you can customize as much or as little as you'd like, with tons of premade portfolio themes to choose from.
The good thing about WordPress is that it's so ubiquitous, which makes it easy to find helpful online resources to help you build and run your own site. It's estimated that 22% of all websites in the US run on WordPress.
WordPress.org and WordPress.com are free to use. However, if you decide to build a website with WordPress.org, you must buy your own domain name and host it on your own server. Also, if you decide to use a premium theme on either .org or .com, those come with a price.
Read more about the difference between WordPress.org and WordPress.com here.
IMcreator gives you much more creative control than previous options.
This also means putting in a little more work: no templates are available and users must do their coding themselves. It's an ideal option for those who can code and like to custom-design their sites.
The platform itself is similar to Wix, but in HTML5. This means improved search engine indexing, making it much easier for people to find you -- which is definitely something you want when you're job hunting!
The service is free, and IMcreator websites are hosted on Amazon servers.
Unlike other platforms which can be used for a variety of website types, Carbonmade is designed specifically for portfolios. It allows you to choose a theme and customize your portfolio with your own domain name, logo, etc.
It requires no HTML and is targeted to creatives, with an affiliated talent search website to help clients get matched to the creative talent they need.
Although Carbonmade does not offer a free service, they are still affordable: three plans range from $6-$24/month.
Where other platforms can be used by nearly any profession, ViewBook narrows its focus to photographer portfolios. It offers integration with Adobe Lightroom software and supports crystal-clear image display.
All of your site assets hosted in the cloud, and mobile apps are available for managing and uploading on-the-go to your online photo portfolio.
A ViewBook subscription is free for the first 30 days; if you like it, you can keep the subscription for $19/month or $190/year.
To find out more about awesome online portfolio creators, click here.