Building a Gorgeous and Functional Construction Website
Want your construction website to pop? Here's how to do it.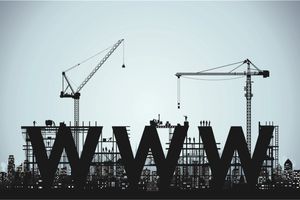 With more customers turning to the Internet for all their life's needs, it's not surprising that construction companies are paying more attention to their websites. Unfortunately, closing the deal isn't as simple as having a phone number online. Searches on Google Maps and Yelp will often bring up competing businesses, so when the client looks at your site, it has to stand out.
Joe Sullivan, a construction advertising specialist, broke down monthly online searches for construction companies.
Top general contractors: 1,600 searches
Bank construction: 14,800 searches
Concrete repair: 60,500 searches
Roof repair contractors: 8,100 searches
Electrical engineers: 60,500 searches
In short, things are getting heated. Here's how to set it up so that your site will attract the right buyers while closing the sale.
Know who you want to target
Just throwing your name out into the wind isn't going to get you the right kind of customers. First, you need to know who you're looking for. To determine who your target audience is start by breaking down basic demographics.
Do you have a certain location that you want to cater to? Marital status, age, or gender? Or for commercial contractors, certain industries that are more appealing than others?
To figure this out, Tommy Walker suggests using CityTownInfo.com, a free online tool, to figure out common occupations and salaries in your metro areas.  Maybe you discover that senior citizens in your town are largely renters.
That would mean that as a roofer, you should be targeting 20 - 50 year olds.
Once you know who you're after, you can start to think about what a successful website would mean for your business.
Create specific, actionable goals relating to your target market
Setting goals in life is the only way to know how well we're doing.
We're a fan of the SMART goal-setting system, which says that goals should be:
Specific
Measurable
Attainable
Relevant
Time-bound
So when it comes to your construction website, a good goal might be "Grow website visitors to 1,000 a month by the end of third quarter" or "Have a lead-conversion rate of 3% by next February."
When you have a set of specific goals and a target audience to address, you're ready to start thinking about the content on your site. If you skip goal setting, though, you'll end up with a disorganized mess that does more to turn customers away. Don't skimp on this step!
Capitalize on the benefits of a well-laid out website
No one wants to buy something from that site last updated in 2010 with the little-animated builder exclaiming "Pardon our dust!"
Every year, the WebAwards identify the best construction site designs across the Internet. Looking at the past three winners (Alpine Construction, Byrne Group, and Munnelly), there are a couple of shared traits.
These sites immediately strike the viewer as visual polished and professional—nothing looks outdated or half-hearted. Each website also uses a layout that's both clean and easy to navigate. Having these basics in place will help your customers connect with you, instead of being distracted by your site.
But beautiful websites alone do not make sales. The best construction sites offer strong call-to-actions and make it easy for the customer to contact sales. For a good example, check out Budget Construction Company.
Market your site
Construction marketing has been compared to playing fantasy football: you need to do your research, invest in the right tools, and take risks. The best construction sites invest in content marketing—look at the success of Blue Sky Builders, Jetson Green, and Englewood just because of their insightful and frequently updated blogs.
Start by writing a blog relating to your industry—be it concrete or tiling or HVAC. The goal of your content marketing efforts is to boost your website in search engine results. Try to pick topics that your target audience is looking for to begin with, like "When Granite Doesn't Work in a Kitchen" or "When Should You Seal Grout?" The more helpful the topic, the more readers you'll get.
The more people click to your page and link back to it from their site, the higher search engines will rank your site.
Seal the deal on the sale
Once you're getting traffic, you need to convert it to cash. There are two major ways to help close a sale from visitors to your site.
First, create a call-to-action that can't be missed. Use specific language like "Schedule an Estimate" or "Get a Free Consultation"—try to avoid nonspecific language like "Request More Information" or "Contact Us."
Second, you can offer a live-chat feature. While live chat is an admittedly demanding website feature, it's an unobtrusive way to communicate directly with your potential customers.