Borders Group History Part 2: The Demise of a Bookstore Chain
Failure to Launch Internet Presence, Ultimate Liquidation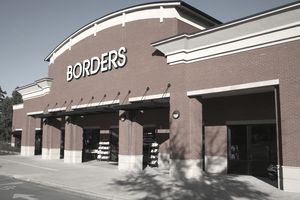 Continued from Part 1 of Borders history, which includes the 1853 founding of Brentano's and the early years of the chain. 
Borders Experiences Twenty-First Century Problems
While maintaining its status of the second-largest bricks-and-mortar bookstore chain in the United States next to Barnes and Noble, in the first decade of the twenty-first century the Borders Group seemed to have trouble finding its footing in the book marketplace.
After its aborted early effort, Borders was extremely late to establish an online e-retail infrastructure (from 2001 until 2008, it partnered with Amazon.com — a competitor — to run its online sales business). From 2002 to 2004, funded largely by book publishers, Borders mounted a time- and resource-consuming exercise in category management retail theory, but never fully implemented the resulting intelligence into its store layouts.
In 2005, the Borders Group began opening franchise operations (as opposed to wholly-owned stores) in Malaysia and the Middle East. Some of these operations continue to thrive, but the rest of the Borders (and Books) international stores failed to remain profitable and were sold or closed.

In 2008 the Borders Group announced plans to sell the chain and, probably with an eye to that end, the appeared to make decisions aimed at bringing the bookstore chain more up to date and in line with its competitors.
For example, Borders did finally establish its own online presence, and also partnered with Kobo books.com to facilitate ebook sales. It established free wi-fi in nearly all its stores and entered an agreement with lulu.com self-publishing company to offer Borders customers the technology to self-publish.
During that time period, Borders also closed over 180 Waldenbooks stores and sold their Paperchase stationery division.
Borders Declares Chapter 11, Closes 200 Stores
Saddled with debt and with no buyer in sight, in 2010 Borders underwent major executive and board changes, and ended the year in financial disarray. In January of 2011, the bookseller sought to get agreement to delay its payments to book publishers as part of a plan to refinance its debt. The same month, Borders announced the closing of their Tennessee distribution center, putting 310 of that facility's workers out of a job, and laid off 45 of its Ann Arbor headquarters staff, across departments such as merchandising, human resources and finance.
On February 16, 2011, The Borders Group filed for Chapter 11 in the in United States Bankruptcy Court in Manhattan and announced it would close 200 stores. According to Mike Edwards, the Borders Group President, the bookseller chain received $505 million in financing from GE Captial, which would "... enable Borders to meet its obligations going forward ... [and] reposition Borders to be a potentially vibrant, national retailer of books and other products."

Borders announced the closing of 28 additional stores on March 17, two days after a Manhattan bankruptcy judge granted them a 90-day extension on their deadline to renegotiate the leases for more favorable terms.


Bankruptcy proceedings continued throughout the spring and into the summer of 2011 when the Borders Group entered into a preliminary agreement with Direct Brands, a company owned by private equity investor Najafi Companies, which distributes books direct to consumers through divisions such as Book of the Month Club and BMG Music Services. However, a committee of creditors rejected the proposal by Direct Brands, citing that, as a direct marketing service, they feared the company would effectively liquidate Borders' bricks-and-mortar store stock, without giving the proper financial remedy to Borders' creditors.
Borders Group Liquidates
On July 18, 2011, the Borders Group announced that, in the absence of bidders, the company would sell to liquidators Hilco Merchant Resource and Gordon Brothers Group, close the remaining 399 stores and "separate" the approximately 10,700 Borders employees by September 2011.
Borders Closing Good News for Independent Booksellers
Books-A-Million took over a number of former Borders spaces, as did some independent booksellers who found that the decreased competition was great for business.