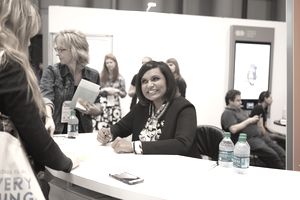 BookExpo America — or BEA, as it is known by book publishing insiders — is an international publishing industry-only event that takes place in the United States each year.
What is BookExpo America (BEA)?
BEA is both a conference and a trade show. The event brings together book publishing professionals from around the world to share information about new "buzz" books and industry trends and allows suppliers — from book publishers to bookstore fixture manufacturers to sideline vendors — to come together to showcase their wares.
Since 2013, BEA has also held a highly popular post-industry day focused on consumers - now called BookCon. Read more about BookCon here. 
When and Where is BEA Held?
An important event on the annual book publishing industry calendar, BEA has typically taken place in the May / June timeframe and has been held all over the country — from New York to Los Angeles to Chicago to Las Vegas.
2016 BookExpo America / BEA Dates & Locations
May 11 - 13  BEA will take place at the McCormick Place Convention Center in Chicago, IL
2017 BookExpo America / BEA Dates & Locations
May 31 - June 2   BEA will take place at the Jacob Javits Center in New York City — the center of the U.S. book publishing industry.
BEA as Book Launch and Book Promotion Forum
BEA marks the launch the lists of the new Fall books — generally the biggest and most robust book list of the year.  
Book sales reps, in-house book publicists, and marketing personnel generally "people" the BookExpo America Publisher booths, which showcase the upcoming books and the key authors to get them in front of those who want to buy and promote them or both.
These include:
Booksellers - Bookstore owners and other booksellers cruise the BEA publisher and other exhibit booths looking to learn what's new in books, to stock their bookstore shelves. Booksellers also attend bookselling and publishing seminars to learn book business strategies in the changing bookselling landscape.
Foreign and domestic subsidiary book rights buyers and sellers - The subsidiary rights representatives of foreign and domestic publishers and producers take publisher meetings and review the new books at BEA looking to find book properties appropriate to their market. If interested, they will acquire the rights to reprint a book, translate a book or turn a book into a television show or movie.
Book-focused publicists and producers - Media representatives (like morning show and talk show producers, book critics, reviewers) and book fair programmers take meetings and comb the BookExpo America exhibit aisles looking to find books to review and authors to feature in periodicals and broadcast programs.
Librarians and educators - BEA also provides the chance for librarians and buyers for public library systems to see the upcoming Fall books.
BEA as Author Platform
Book publishers invite key authors also attend BEA to have them press the flesh of booksellers and other industry influencers. There are a number of forums for that:
The author signing area is where hundreds of authors put their John Hancocks on galleys or advance reading copies/editions (ARCs / AREs). These signings are specifically for booksellers so that they get to meet the authors and get advance copies to preview the fall books they'll be selling.
Book and Author Breakfasts - big-name authors — whether US Presidents or TV stars like Mindy Kaling or best-selling novelists — are big draws for booksellers and are sell-out events.
In-booth author appearances - for signings are sometimes scheduled for book publishers who want to create excitement in their booths.
BEA as Book Publishing Industry Trade Show
BookExpo America is host to upwards of 1,300 publisher and book-related exhibits.
The booths are segmented into areas for publishers (major publishers, small, university presses, etc.), international publishers, and suppliers who provide "sidelines" (mugs, tee shirts) to booksellers.
Typically, taking orders isn't allowed on the show floor; meeting rooms are used for selling. 
To attract booksellers and other visitors to the booths, exhibitors create excitement with giveaways (ARCs, tote bags, other promotional items), or host prize drawings or author signings.
BEA as Book Publishing Industry Conference
BookExpo America, like the expos and conferences for any business, also gives the booksellers and other book publishing professionals who attend the opportunity to learn what's happening in the book industry.
Conference sessions and panels related to book publishing industry trends (such as digital, etc.)
Skill-building seminars aimed at booksellers.
Concurrent conferences - such as the Book Bloggers Conference, CIROBE, the Audio Publishers Association, etc.
BEA as Book Publishing Industry Party
In addition to official BookExpo America events, there is much informal meeting and mingling among the book brethren. Publishers often throw offsite book parties or just parties or host bookseller dinners to take advantage of the critical mass of bookselling customers and authors flocking to the same city at the same time.