Book Reviews: Why They're So Important to Authors
Types of Reviews and Reviewers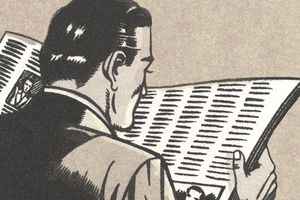 How Important Are Book Reviews to Authors?
Book reviews can be greatly important to authors in that a good review (or at least a good soundbite from a review) is a form of "social proof" that reassures the reader and helps sell the book. How much weight the review snippet holds depends greatly on the publication and how much the reader trusts its curation and editorial judgment.
How Books Are Chosen for Review
Generally, books are submitted to publications for review consideration by the publicist assigned to the book by the publisher or a freelance publicist hired by the author.
Note that reviews are almost always for books that are first launching; backlist books are rarely reviewed. The selection process for books to be reviewed varies from publication to publication, based on what the editorial vision is for the periodical.
An editorial team generally assigns the books they choose to their respective reviewers. It is safe to say that in major industry and consumer-facing review vehicles, competition is fierce for review column inches. The New York Times estimates that they review 1% of what is submitted.
Industry Book Reviews Help Booksellers, Librarians
A number of traditionally published books get reviewed in industry vehicles months before they are available to readers. These pre-publication reviews give booksellers and librarians insight into the books that are forthcoming and help them make their buying decisions.
Kirkus Reviews – geared toward to booksellers and industry pros and are very well respected. They also now offer reviews for self-published books (see Kirkus Indie, below).
Publishers Weekly reviews – geared toward the industry and booksellers
Library Journal Reviews – geared toward librarians who often choose books for entire library systems (that is, they purchase multiple copies)
Powerful Book Review Vehicles Greatly Influence Consumer Sales
Some reviews sources are more trusted and more well-read by book readers and, therefore, have a more powerful influence on book sales than others.
The New York Times holds much sway throughout the country; other publications may have more influence on their region or with a certain subset of readers.
Here's a sampling of some of the major publications that review books:
The Big Kahuna
The New York Times (both the weekly Book Review section and the daily book review on the Arts pages)
Broad Range of Coverage, Often with Regional or Special Interest
The Washington Post
The Los Angeles Times
The Boston Globe
The San Francisco Chronicle
The Guardian - global online site originates in the United Kingdom
Glossies
Many glossy magazines have book reviews to fit their respective readers' interests. 
The Largely Literary Bunch
Look to these for – literary fiction, serious non-fiction, politics, translations, poetry
The New York Review of Books
Slate - albeit "accessible" literary!
The New Yorker
The New Republic
The Atlantic
The Town Crier for Reviews
The Associated Press – reviews of books of popular interest tend to get spread around the AP syndicate, and so can appear in numerous local papers.
Booksellers, Book Websites, Book Bloggers, and Book Podcasts Speak to Book Lovers
Book sites like Book Riot, book blogs like Beth Fish Reads, and book podcasts like Books on the Nightstand also provide trusted book insights and reviews for the reader.
In addition, many booksellers provide a vehicle for staff-written reviews.
"Off the Book Page"
Book reviews can appear "off the book page," as well. For example, a review of my cocktail book Peterson's Holiday Helper appeared in a round-up article about holiday humor books in The New York Times Style Section – not a place where you'd typically find book reviews.
This type of book coverage is generally the result of the book being pitched to the periodical or show by a publicist; that is, it grows from the publicity effort for the book.
Book Reviews for Self-Published Books
It's notoriously difficult to get a self-published book reviewed in traditional review channels — The New York Times flatly refuses. This is perhaps why, for better or for worse, an entire industry seems to have sprung up where authors "pay for play" — pay a fee for the privilege of having their book reviewed.
Some bloggers have adopted this practice, as well. Examples are:
Self-Publishing Review
The Midwest Book Review
Indie Book Reviewers
Kirkus Indie – the aforementioned trusted name in traditional publishing reviews, now offers "unbiased" indie reviews for a fairly steep price. They offer to keep the review private (see "no guarantee," below) or publish it on KirkusReviews.com.
With the exception of Kirkus, it's unclear what the circulation of these review vehicles is or who is reading them. Costs range from $50 to hundreds for these publications to read and review your book – and paying for the "read" doesn't necessarily guarantee a good review (especially with book bloggers), so tread very cautiously here.
Reader Reviews
Reader reviews — such as those that appear on amazon.com or bn.com — can have a strong influence on book buying decisions. While it's not polite to use online retailer reader reviews to plead your case with independent booksellers (due to the competition between bookselling retailers), online buyers rely on these highly subjective, amateur reviews to help make buying decisions.
Reader reviews can also influence genre readers – such as those on The Romance Reviewer site, which recruits readers to write reviews.
Who Are the Book Reviewers?
Reviewers vary. There are literary critics (see below), and many book section editors tap established writers who have an expertise in the subject or genre to review their peer. As previously mentioned, sites like The Romance Reviewer recruit fans of the genre.
What's the Difference Between Book Reviews and Book Criticism?
The terms are somewhat interchangeable, though one could make the following distinctions:
Book criticism tends to be a longer, deeper, more formal exploration and analysis of the text of the book itself — a piece of book criticism feels like a work unto itself. A book review is an exercise in which the reviewer presents the perceived pros and cons of the book for the sake of potential readers. While this might include some analysis, a review is generally shorter and less in depth than a critical piece.
Someone who frequently reviews books and / or does it regularly or exclusively for the one publication (such as Michiko Kakutani at The New York Times) is considered "a book critic" someone who might occasionally be called upon to "review" a book (see "established writers," above).
Those who consider themselves book critics generally belong to the National Book Critics Circle (NBCC), a non-profit organization dedicated to honoring outstanding writing and fostering a national conversation about reading, criticism and literature. NBCC has nearly 600 member critics, authors, literary bloggers, book publishing personnel, and student members. NBCC doesn't make a hard distinction between critics and reviewers — its membership is open to freelance and staff book reviewers at various stages in their careers, associate nonvoting members, and student members.
If You're Lucky Enough to Get Good Book Reviews... 
Use them to full advantage — put them on your author website, post them on social media, and in any other marketing materials.