Book Review of "Likeable Social Media" by Dave Kerpen
A Delighted Customer Is a Loyal Customer - The Holy Grail of Ecommerce Success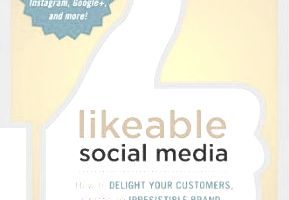 Everyone is running a social media campaign these days. Big companies have more staff for the campaign, and can also bring in external experts. Sure there will be the occasional misstep, but big businesses have the resources to work it out, and stop disasters from getting any bigger.
Smaller businesses tend to have a tougher time with social media, especially ecommerce businesses with no physical presence in the user-community.
With limited resources and few people, running a social media campaign is not easy. That is what has kept some ecommerce website owners from venturing into social marketing.

Likeable Social Media aims to take away some of the randomness associated with social campaigns. The point is to show you how you can be successful in creating posts that people not only enjoy, but want to share. This is akin to the traditional word-of-mouth approach, but with a wider audience that has virtually unlimited reach. How does that sound to the ecommerce marketer in you?
The Author
Dave Kerpen is a social media guru. He is the cofounder and CEO of the firm Likeable, which he runs alongside his wife Carrie Kerpen. Kerpen is aware of what it takes for a social media campaign to connect with its audience. He is also well aware of how to create and run an expanding ecommerce business. His own company has a sixty-member team.


In addition to this one, Kerpen has written another book too. The other one is about starting a company, running it, and connecting with customers.
The Content
This book has two major areas: listening to the customer and acting like the customer.

The book helps you understand that social media advertising is different from any other form of advertising.
The word-of-mouth process embedded within social media has an ever-expanding reach.

By connecting deeply with your customers, you will be able to improve your social presence, which is exactly what this books covers -- right from the need for transparency to the kind of content that should be posted on different social media platforms.

One of the more valuable chapters deals with social media mistakes -- small and gigantic. Every company makes mistakes with social media. In extreme cases, these can impact their reputation and profits. No business can afford a strong blow to its customer base. This chapter tells you how to handle problems, and eliminate their impact on your ecommerce business.
Pros
Well-written and informative, covering a wide array of scenarios involved in social media marketing.
Written by a successful ecommerce entrepreneur who has used social media effectively.
Extensive coverage of the topic, without a lot of unnecessary information.
Lower priced than many other similar guides on Amazon.
Cons
Doesn't cater exclusively to ecommerce.
It seems to be written primarily for the corporate audience, not for the small ecommerce business.
You could get most of this information elsewhere, if you looked.
Conclusion
This is a book that is recommended highly by many people, and with good reason. The information in the book can can act as a step-by-step for creating a social media campaign for your ecommerce business. Beginners and intermediate-level ecommerce professionals will enjoy this book. Advanced users might not find it as useful.
Here are some more ecommerce books that I recommend:
E-Commerce Operations Management by Schniederjans, Cao, and Triche
The Everything Store: Jeff Bezos and the Age of Amazon by Brad Stone