Book PR Tip - Hook Your Book to An Upcoming Occasion
Take Advantage of Seasonal Promotions and Media Topics for PR/Marketing Success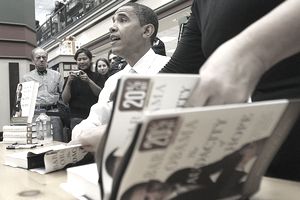 Wonder how to get more book PR?
The media always needs timely content around big events — a fresh spin on timely content might bring you a new avenue to market your book.
Book Publicity and Promotion for Seasonal Topics
Each month there are generally one or more major promotional areas that are highlighted on bookstore promotional tables, in-store displays and in online email promotions. Dozens more occasions covered annually by periodical editors, blog writers, and radio and television producers who look for fresh content on recurring themes.


For example, expert home and office organizer Mary Carlomagno's books are generally published in time for the January season of self-improvement resolutions (often referred to as "New Year, New You"). The "New You" season means a more media outlets will be in need of self-improvement content and Carlomagno's new "organizing" book means that she's top of mind, that she's got something new to say--and that the media outlets are more likely to tap her for her expertise.

Cocktail Expert Colleen Graham's book, (an in-depth, comprehensive overview of the spirit, along with 90 tequila cocktail recipes) was launched to coincide with the popular and festive Mexican holiday Cinco De Mayo, which is celebrated with margaritas and other tequila drinks in practically every Mexican restaurant and many homes throughout the country. While tequila is certainly enjoyed year-round, Cinco De Mayo made a great natural hook that enabled cocktail writers to report on while the book provided new, fresh drinks for writers to share with their readers.
Fit Your Backlist Book to the "Hook"
Your book doesn't have to be newly launched if you can hook it to a late-breaking current event; if you're a non-fiction author with a platform in your subject matter, any news related to your area of expertise can be an opportunity for you to be available to the the media to give a quote, and have them mention your book.
In some cases, you can tailor your book's subject to fit the occasion. For example, during the Back-to-School season, Carlomagno's publicist might pitch a piece on how Moms can organize their households to be more efficient during the hectic school week.
Timely In-Store or Online Book Promotion
Take a look at the Book Promotion Calendar for a general idea of the timing of major seasonal in-store and media promotions.

Keep in mind, if you're planning to tie your print book to a promotional event at launch, in order for any event-driven book publicity or promotion to be successful, the physical books need to be available to the consumer at the moment of promotion, or you run the risk of having the consumer forget to buy the book when it's not topical or top of mind.

In order for printed books to be eligible for possible inclusion in an in-store promotion, the books need to be published several weeks to several months in advance of each event, depending on the lead time required by the particular account. The books need to ship, the account to needs to receive the books and get them onto the shelf. This could take just several days for a bricks and mortar independent bookseller to a number of weeks for a national chain, like Barnes & Noble (the books need to go through a distribution center), to several months for huge accounts like Target or Walmart.