Book Festival Programming - How Book Fairs Choose Authors
An Interview with Miami Book Fair International's Paola Fernandez-Rana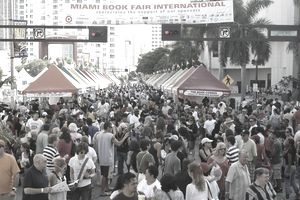 Book festivals and book fairs can be a great way for high-profile authors to promote a new book or get some quality face-time with their reading public. And book festivals can raise the profile of lesser-known authors, helping to market them and their books to a larger audience.

Here, Author Liaison Paola Fernandez-Rana shares her behind-the-scenes programming strategy for the Miami Book Fair International and tells us how authors and books are chosen to be featured at the prestigious — and beloved — community literary event.
As someone who programs the Miami Book Fair International, one of the country's preeminent book and literary events, you have close to 400 authors and other book publishing pros attending and speaking. It's obviously a great opportunity for writers to meet readers — it's an honor to be asked, and I'm sure it's very competitive. What process or processes do you go through to find and select what authors or both and others you invite?
There are a number of things that we look for when deciding who to invite as a presenter for the Book Fair. Miami Book Fair International is more of a literary event than not — so, depending on the author, we look at quality of the writing, how well the author's work has been received, reviews and overall sales. We try to balance the list with those who have name recognition and have enjoyed commercial success with those who may not be as well known but have published well.
Our criteria are not so different really than what a publishing house does when considering whether or not to publish someone. We also pay close attention to who has won what literary prizes throughout the year, the Indie Bookseller bestseller list, The New York Times Best-Seller List and, of course, we take recommendations from publishers.
How do publishers recommend books to you? Is there a formal application process?
In general, the publishers' publicity departments reach out to me when they have a book they think is appropriate. The application process is informal — but for books that are submitted unsolicited, there is an Author Selection Committee that reviews the submissions and renders a decision. The deadline for unsolicited submissions is July 31.
The fair is in November — what's the programming cycle of the MBFI? That is, when do you start to think about "next year"?
We generally start thinking about the "next" Fair around March or April. The Center at MDC — which is where I work and who puts on the Fair — also does a lot of other literature- and theater-related programming throughout the year. So we're busy 24/7.
What should authors (and/or publishers and publicists) who would like to participate keep in mind when they're approaching you — or other book festival programmers, for that matter?
I guess the most important thing to keep in mind is that I can't always take a book, even if it's a good book by a good author if it doesn't fit with the other books and authors that we're planning for the programs. In programming sessions, we try to achieve a certain synergy so that everything works and fits, kind of like a well-oiled machine.
Also, our space can be limited and sometimes I just can't fit that one extra author… and sometimes I can.
What do you like best about the job of programming a book festival?
Probably what I like best about my job is being able to work with the best authors across disciplines. And also getting to be a part of some very cool once-in-a-lifetime events. For example, Patti Smith reading from and then performing "Because the Night" sans guitar to a packed audience. Or John Hodgman and Larry Wilmore winging it for an hour of non-stop laughs. Good times.
In general, what else would you like Book Publishing readers to know about the festival?
Miami Book Fair International has been around for 28 years and isn't just about American authors and an American audience. In addition to having a very large Spanish language program that's like a Fair within a Fair, we bring in authors from all over the world and each year celebrate a different country — for example, China or Mexico or Colombia.
The Fair is truly international, and the programming reflects that.

Paola Fernandez-Rana is Author Liaison for Miami Book Fair International at Miami Dade College. Prior to working at MDC, Ms. Fernandez-Rana was the Director of Public Relations at Health Communications, Inc., and was formerly the Director of Publicity at Anchor Books/Doubleday.