Bond Trader: Buying and Selling Bonds for a Living
As the pit trader disappears, the math expert rises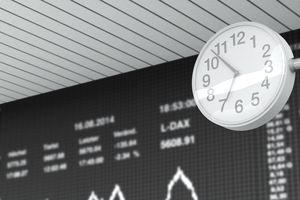 Years ago, when I worked as a reporter in Chicago, I had a small office in the Chicago Mercantile Exchange. There were many days when I needed a diversion, so I'd head downstairs to watch the action in the trading pits.
I was a relative outsider to the pits, so the scene was pretty much impossible for me to decipher. There was a lot of screaming, a great deal of pushing, and no small amount of shoving.
Sometimes actual fistfights would break out. Hyper-looking people in strange, multicolored jackets used elaborate hand gestures indicating buy and sell signals. It was something like a bizarre circus with a language all its own. I loved watching the place, but I had no desire to work down there.
The trading world is considerably calmer these days. Although there are still trading pits, most of the investment world has moved to more sedate, computer-based trading systems. The larger-than-life characters who made a living screaming, shoving and trading are fading into history. There's a whole new world of bond traders out there.
Do you have what it takes to wade in and tackle buying and selling bonds for a living?
Becoming a Bond Trader: The New Breed
Careers in bond trading can be enormously rewarding from a financial perspective, so competition for these jobs at the giant investment banks and other financial institutions is fierce.
And a new style of person is winning these prized jobs these days. 
"It used to be that the prerequisite to trade bonds on Wall Street was being a lacrosse player," according to Paul Calvetti, then head of Deutsche Bank AG's government bond desk told Bloomberg News. "The prerequisite now is to have a quantitative, analytical background.
Without those skills, trading can be like trying to be a carpenter without a hammer."
The Careers in Finance website has a similar take. "Fixed income trading positions call for strong analytical know-how and the wherewithal to manage large amounts of inventory in an often thin market."
What Skills and Education Do You Need?
If you have strong math skills, a strong personality, and a degree from a top-tier school, the odds are strong that you can get an interview with one of the major financial institutions that hire bond traders.
If you're still in school, particularly in a good school that offers strong programs in business, math, or physics, make plans now to meet with a Wall Street recruiter. Odds are that a few of them will be recruiting on your campus.
If you already have your degree, start searching for trading jobs on e-Financial Careers and Vault.com.
You may be required to take and pass the General Securities Representative Exam. It's sometimes referred to as the Series 7 exam. It's mandatory before you can buy and sell securities and you'll need the sponsorship of a firm behind you to qualify to take it. Some states require additional exams and certifications.