Bond Trader: Buying and Selling Bonds for a Living
As the pit trader disappears, the math expert rises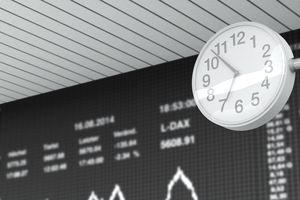 Years ago, we had a small office in the Chicago Mercantile Exchange. There were many days when we needed a diversion, so we'd head downstairs to watch the action in the trading pits.
As a relative outsider to the pits the scene was pretty much impossible to decipher. There was a lot of screaming, a great deal of pushing, and no small amount of shoving. Sometimes actual fistfights would break out. Hyper-looking people in strange, multicolored jackets used elaborate hand gestures indicating buy and sell signals.
It was something like a bizarre circus with a language all its own. 
The trading world is considerably calmer these days. Although there are still trading pits, most of the investment world has moved to more sedate, computer-based trading systems. The larger-than-life characters who made a living screaming, shoving and trading are fading into history. There's a whole new world of bond traders out there.
Do you have what it takes to wade in and tackle buying and selling bonds for a living?
Becoming a Bond Trader: The New Breed
Careers in bond trading can be enormously rewarding from a financial perspective, so competition for these jobs at the giant investment banks and other financial institutions is fierce. And a new style of person is winning these prized jobs these days. 
"It used to be that the prerequisite to trade bonds on Wall Street was being a lacrosse player," according to Paul Calvetti, then head of Deutsche Bank AG's government bond desk told Bloomberg News.
"The prerequisite now is to have a quantitative, analytical background. Without those skills, trading can be like trying to be a carpenter without a hammer."
What skills and education do you need?
If you have strong math skills, a strong personality, and a degree from a top-tier school, the odds are strong that you can get an interview with one of the major financial institutions that hire bond traders.
If you're still in school, particularly in a good school that offers strong programs in business, math, or physics, make plans now to meet with a Wall Street recruiter. Odds are that a few of them will be recruiting on your campus.
If you already have your degree, start searching for trading jobs on e-Financial Careers and Vault.com.
You may be required to take and pass the General Securities Representative Exam. It's sometimes referred to as the Series 7 exam. It's mandatory before you can buy and sell securities and you'll need the sponsorship of a firm behind you to qualify to take it. Some states require additional exams and certifications.