What You Need to Know About Blog Book Tours
Launch Your Book Virtually on Blogs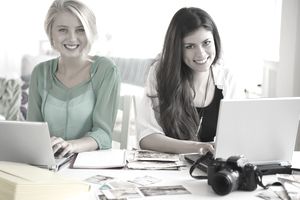 A blog book tour is a marketing and publicity tool that leverages the audiences of blogs and websites to virtually reach potential readers through book- and subject-focused blogs. In short, blog book tours enable book discovery.
Here's what you need to know about blog book tours and how to set one up.
Traditional Book Tours vs. Blog Book Tours
In a traditional book tour, the author visits a select number of cities.
As book tours usually take place during the launch of a book, there is often a time limit on the tour of a few days to a few weeks. In each city, the author visits bookstores or other venues for in-person readings or signings and, ideally, is scheduled for media appearances, as well.
This combination of public appearances and media coverage in a relatively short window of time helps build awareness and sales momentum for the book.
Traditional book tours are expensive ($1,500 or more per city for transportation, hotel, meals, a PR escort, etc.). The timing needs to be closely coordinated between the publicity and sales departments to make sure the stores in the local area are well stocked with the book.
A blog book tour is virtual and, rather than being hosted by bricks-and-mortar booksellers the author visits various blog and website from the comfort of his or her own home by providing each with unique content.
Note that a blog blast is distinct from a blog tour. A blog blast is similar to a PR campaign blast to other types of media — the information and generic book materials (such as a press release, talking points, an author Q&A, etc.) are blasted to all applicable blogs that cover or might be interested in the book's topic.
How to Set Up A Blog Book Tour
A well-organized blog book tour takes time to set up, so start well before publication date.
1. Determine the Timeframe for the Blog Book Tour: Tours are most frequently timed to the book launch and usually last between one and two weeks.
2. Choose the Blogs to Approach: In general, the author (or paid service) does research on — or already has a relationship — with the blogs that line up with the topic of the book. It's desirable to choose popular blogs, the ones that have high traffic and a lot of engaged followers. Ideally, authors should start well before their book's publication getting to know these blogs — commenting, engaging with the audience, etc. It's useful for the next steps to set up a spreadsheet of possible blogs.
3. Brainstorm the Types of Content You Can Provide: Armed with a knowledge of the individual blogs, figure out what you can offer each. The author may provide books or signed copies of books for a giveaway.
Possible types of content include:
Quizzes from the factual information in your book
An informative essay
A how-to or recipe
A personal backstory regarding the inspiration for the book
A video interview
4. Reach Out to the Selected Blogs: Pitch each blog with information about your book and what you can provide that would appeal to the blog and its audience.
Make sure advance or review copies of your book are available for them, so they can assess the fit.
Follow up and get commitments for the tour dates and content type and get agreement for what kind of bio, book promotional information, links, etc. they'll also include.
5. Create the Content: Creating unique content for each blog will take time and energy, so start this well ahead of time.
6. Provide the Content to the Blogs: Do this in the agreed-upon timeframe. Don't forget to also include photos of the book jacket and bio information, links, etc.
7. Promote Your Blog Book Tour Early and Often: Your blog book tour will be most effective if you help promote the heck out of it — and the bloggers will love you for it. Post the schedule on your website, and send it out via social media. Promote each individual "appearance" on social media in the days leading up to the appearance, taking care to make sure your blogs don't compete.
The Advantages of a Blog Book Tour
While traditional book tours are great if the publisher has a budget, some of the pluses of a blog tour are:
Minimal cost. There are no travel expenses for the author (no planes, no hotels), so the blog book tour friendly for the low-budget book marketing campaign and the author on a budget. In addition to savings on travel and accommodations, a book blog tour doesn't require laying out cash for the dog's kennel.
Convenience. With a blog book tour, there's no spending time away from home — so there's no missing your weekly bridge game, or scrambling to find childcare or someone to water the plants.
No public speaking ability required. Which makes blog book tours great for shy authors.
Flexibility. While blog book tours definite require a time commitment to create content, the time-consuming work can be done ahead of schedule and spread out. Also, content can be created in any snatched hours of the day or night.
Social media shares. Bloggers generally socially promote their content and an appearing on a blog affords an author the opportunity for low-key self-promotion, as in Tweets like: "Thanks so much to @theblogger for hosting me re: #romance #faves! [link]"] With popular blogs, this can lead to many retweets or other social shares.
Ongoing online momentum. Your content "lives" on the Internet and may be picked up in future searches or by content aggregators and, as additional bloggers become aware of you, you may get asked to do more "tour stops." Additionally, you can revisit and re-promote the content periodically, like at an advantageous PR moment — making blog book tours "the tour that keeps on touring."