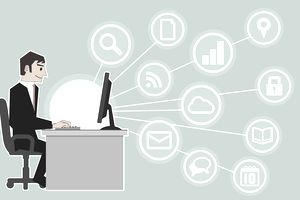 US Mutual Funds have grown in relevance over the past few generations, and for the average US citizen, they represent the only way of investing in public companies or even in general.
The ICI (or Investment Company Institute) is the place to go for overall statistics, especially the excellent ICI Factbook.
Quickly, a few important facts emerge. Mutual Funds globally were valued at 33.4 Trillion Dollars as of 2014, with most of this, or 18.2 Trillion, in US Mutual Funds, and their related parent US Investment Companies own 30% of US public companies.
This makes Mutual Funds, and especially US Mutual Funds, extremely influential in the behavior of US and other public companies.  
Over 43% of US households own Mutual Funds.
Given that US citizens often have few investment options other than their 401(k) plan or such Mutual Funds through their broker, this connection is critical in so far as individuals wanting to invest and have their money positively affect environmental and social issues of concern.
In fact, this well researched interactive map shows that in every US state, a majority of citizens believes climate change is real.
Yet, many US fund families act to the polar opposite of this desire.
A study of US Mutual Fund families looked at the voting records and found some very disturbing statistics.
Mutual Fund Family Support for Climate Change Resolutions during 2014-15 was found to be as follows:
First of all the neon blinking light finding in this picture is that the three largest US Mutual Fund families, BlackRock, Fidelity, and Vanguard all vote totally against climate change resolutions, at 0%.
The vast majority of the invested dollars in these three institutions also remains deeply entrenched in the status quo of business as things stand.  
BlackRock for one has recently launched a series of Impact funds, but one of these new funds with ticker symbol BIRAX has a mere 20 Million Dollars in assets, while the larger BlackRock manages trillions, making their Impact involvement a mere drop in the bucket.
 Fidelity and Vanguard also have very small offerings, relatively speaking, and even then not focused specifically on climate change.
BlackRock's recent paper entitled The Price of Climate Change is very good, so they may be the leader of these three institutions, but regardless, they vote with management on climate change or have been until very recently, creating something of a conundrum - they are also always among the largest owners of fossil fuel producing public companies.
This voting appears to continue into what is now the 2016 annual meeting and shareholder resolution season. BlackRock's position, in particular, is hard to understand, as they otherwise seem to understand the financial risk of climate change.  
Perhaps they feel somewhat stuck and in a bind based on their ownership.
It also wasn't long ago that these three fund managers were also among the largest remaining owners in coal companies, such as Peabody Energy, which went on to lose 98% or more of their value over the past three years, and so sticking with old ways of thinking has proved devastating for the value of some holdings.
This is an important finding, in that there is a serious disconnect between a majority of Americans who believe in climate change and the behavior of their fund managers on this issue.
It is partly up to these fund managers to educate their clients on what is needed and to show leadership by example.
On the better side of this picture are Deutsche/DWS, Schroder, Allianz and AllianceBernstein.
Deutsche/DWS voted 100% of the time in favor of climate resolutions, Schroder 93% and AllianceBernstein 80% in 2014-2015.  Allianz went from 81% to only 40% between 2014 and 2015, while the other three increased their percentages, which is also of interest.
The commonality of these 4 managers is that they are all European in ownership unlike the other three listed above which are headquartered in the US.  French-based AXA owns AllianceBernstein, and has been very aggressive under the leadership of Henri de Castries who is outspoken on the need for sustainable financial systems.  
AXA and Allianz have both built thoughtful processes and have committed to no longer be financially involved with coal, as just one example of the steps they are taking.
 Both are also among the largest PRI signatories and participated in the 2015 PRI Climate Change Asset Owner Strategy Project, which I was honored to be lead consultant.
This project just launched a final paper outlining a framework for action calling for more positive sustainable investing, more investing in low carbon solutions, engagement with corporations, policymakers, and outsourced fund managers as well as divestment, but only after a thoughtful process. This paper also has a series of new investor case studies and followed the first Reducing Emissions paper issued in July, which goes deeply into the systemic nature of energy and climate change.
European fund managers may have a serious opportunity to expand in the US on the back of their more proactive stance versus their US counterparts.
Will European fund managers gain traction by being more thoughtful?  Another French-based manager doing excellent work in this regard is Mirova, part of France's largest fund manager Natixis.  
Their recent "Investing in a Low Carbon Economy" is a first-rate piece of investment research pinpointing companies finding meaningful solutions to the climate challenge.  Readers interested in the subject should seek out this report.
It would be especially interesting to see European managers get traction for their more proactive stances in the US market, and it will also be interesting to see if they can financially outperform on this basis going forward.
Of course, the other trend playing out includes the move to passive investment among Mutual Funds and other vehicles such as ETFs (Exchange Traded Funds).  
The growing significance of passive, lower fee investment only increases the responsibility of fund managers to be more responsible, or if they continue to vote against the best interests of the public, they simply enable the status quo which climate scientists tell us will cause unmitigated environmental disasters in the decades to come.  
Something is guaranteed to give, and that might be the only sure thing about this situation.  
As always, our hope is ​for a positive dynamic of a race to the top of better action both for economic and societal benefit.
BlackRock, Fidelity, and Vanguard, and their US counterparts, clearly have a lot of work to do to catch up to this new reality.