Biogen Succeeding through Sustainability
Company succeeding through a positive focus on solutions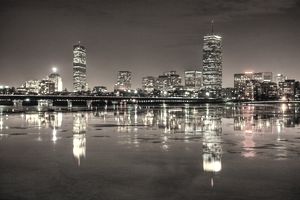 A company that has shown an ability to excel financially while maximizing their environmental and social issues is Cambridge, Mass. based Biogen. Biogen has a tIcker of BIIB and is up dramatically in share price over the last few years, while at the same time becoming a leader on sustainability.
Biogen had received top marks rated #1 overall by the Global 100 in 2015, released during the World Economic Forum in Davos, having finished 2nd in that ranking the previous year,and the company continues to work on what else they can do on environmental and social risks and opportunities.
As per this Corporate Knights profile, the company began digging into its sustainability issues in a serious way in 2008 and after years of efforts, have achieved levels of efficiency in their sector which are unprecedented, for example, using less energy per dollar of revenue than any of its peers.  The company's four most recently constructed buildings have all achieved high success from a LEED certified perspective, which has helped achieve this level of overall efficiency, through millions of dollars of investments, most of which paid off after only three years.
Biogen has also reduced their water footprint by more than half over the past ten years while expanding operations which is in effect a true realization of the concept of sustainable development:  the ability to achieve growth while lowering your footprint at the same time, the sort of ambition we wrote about before as regards Unilever.
Biogen is most certainly a company that would fit our Value Driver Model concept of improving the sustainability aspect of their revenue while maximizing productivity while adding to the bottom line, with a separate eye on ongoing risk mitigation, while outperforming financially.  A win-win scenario that we have long been seeking through sustainable investing strategies.
There is a cliche that Europe is ahead of the US, but Biogen is one of many cases of US companies leading the way, and which was also seen by Corporate Knights in their 2015 Global 100 analysis.  We agree that from a corporate perspective, the US is the global leader and the economic strength of our corporations gives them a unique budget and ability to do more on their ESG (environmental, social and governance) issues than say European companies especially in countries with struggling economies. 
So through successful execution of sustainability strategy, especially that which aids their bottom line, companies such as Biogen have been succeeding financially as well.  
Five years ago had you known the company would dramatically rise in share price while also being seen as maximizing their sustainability, it would have been a no-brainer. Add to that the fact that the company was aimed at solving serious health challenges and you in effect had the full extent of a sustainable investment - a company seeking to solve societal problems, minimize their footprint while growing financially.
But can they keep it up?  
Per Yahoo Finance, "Biogen Inc. discovers, develops, manufactures, and delivers therapies for the treatment of neurodegenerative diseases, hematologic conditions, and autoimmune disorders.
It offers TECFIDERA, AVONEX, and PLEGRIDY to treat relapsing forms of multiple sclerosis (MS); TYSABRI to treat relapsing forms of MS and Crohn's disease, and FAMPYRA to improve walking ability for patients with MS. The company also provides ELOCTATE for treating adults and children with hemophilia A for control of bleeding episodes; ALPROLIX to treat adults and children with hemophilia B for control of bleeding episodes; RITUXAN for treating non-Hodgkin's lymphoma, rheumatoid arthritis, and chronic lymphocytic leukemia (CLL), as well as two forms of ANCA-associated vasculitis; GAZYVA for the treatment of patients with previously untreated CLL; and FUMADERM to treat plaque psoriasis. The company's products in Phase III development stage comprise ZINBRYTA, a monoclonal antibody for the treatment of relapsing-remitting MS; Aducanumab for Alzheimer's disease; and ISIS-SMNRx for spinal muscular atrophy.
Its Phase II clinical trial products include Anti-LINGO for optic neuritis and MS; Amiselimod for multiple autoimmune indications; BAN2401 and E2609 for Alzheimer's disease; Raxatrigine for trigeminal neuralgia; rAAV-XLRS for X-linked juvenile retinoschisis; and BG00011 for idiopathic pulmonary fibrosis. Its Phase I clinical trial products comprise Dapirolizumab pegol for systemic lupus erythematosus (SLE); ISIS – DMPK for myotonic dystrophy; Anti-BDCA2 for SLE; Anti-alpha-synuclein for Parkinson's disease; and BIIB063 for sjogren's syndrome."
Less than a year ago, the company's potential solution for Alzheimer's, the aforementioned BIIB037, was announced to have potential success in December 2015.  Investors such as Fidelity, Vanguard and Primecap remain heavily invested in the company among other large institutional shareholders involved.
15 of 25 analysts surveyed by Thomson/First Call had the company as a Buy or Strong Buy (per Yahoo Finance) with mean targets of 345 with the company trading around 263 at present, while some maintain a price target of 450 dollars per share.
With a track record of financial, social and environmental success, Biogen is an example of what a sustainable company can look like, as well as one that has shown the ability to deliver over time and that retains a healthy pipeline.  Add Biogen to the list of companies to keep a sharp eye on at a minimum.