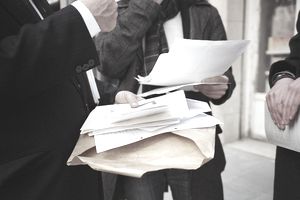 What are the most critical issues affecting importers today? Here are my top eight.
1.  Making mistakes.
If there is one thing that will throw everything off on an import, it's mistakes, and many are caused by lack of knowledge. Go over all information and documentation very carefully. Have a different pair of eyes review everything after you have to ensure all paperwork complies. This will lesson the chance of any hidden errors remaining buried.
To ensure this never happens, have written procedures in place at your company that comply with international trade regulations and satisfy the requirements of customs regulations. Train your staff! How else will they know how to do things? Make it a companywide commitment and objective that things get done right and on time the first time. Because if the information you provide through your own organization is incorrect, nothing you can say or do at border patrol in trying to explain is going to prevent you from the consequence that will take place: fines, seizures and penalties.
2.  Getting the Harmonized Tariff (HT) schedule correct.
Proper HT classification (http://hts.usitc.gov) using the General Interpretative Rule (GIR: is a must because most Free Trade Agreement (FTA) rules are based on that classification. If you fill out a NAFTA certificate, for example, determine how your product qualifies and fill out the certificate properly.
Have a look at "5 Common Tariff Classification Pitfalls" for help in achieving the right classification result: http://tradecompliance.ghy.com/tag/girs/.
Be clear and precise on what commodity is being shipped. If it's bananas, state "bananas" and not "yellow tropical fruit." If it's "bearings," state exactly what type of "bearings" – "steel ball, skateboard or radial ball?" You don't want to make the customs people scratch their heads and guess about what's really being shipped.
If that happens, they will classify the product based on their own interpretation or reject it altogether.
4.  Getting the customs value accurate.
Gather all the information about a product to ensure the accuracy of the value. This is key to getting the customs value accurate. Sometimes assists – when an importer of foreign merchandise provides something of tangible value to the producer or supplier of that merchandise – are unknown. When an importer provides an assist, the invoice value of the merchandise doesn't reflect the value of the assist. From a U.S. Customs point of view, this reduces the invoice value of the import. Those parties involved in this type of arrangement oftentimes are unaware that some items potentially qualify as assists impacting the transactional value of imported goods. Bottom line? Watch it because it is the importer's responsibility to make sure that all imports are correctly valued.
5.  Interpreting rules and regulations correctly.  
Determining where a product comes from – Rules of Origin, for example – is no longer easy when raw materials and parts connect in a confused state across the globe to be used as inputs in dispersed manufacturing facilities. Having proper records in place when importing goods under different FTAs is critical to ensure you are complying correctly to regulations.
6.  Rolling with the variances on how imports are regulated between different countries.
There is a lack of consistency in how imports are regulated between all countries, particularly those that belong to the World Trade Organization. Let's face it, trade barriers, anti-dumping and countervailing duties (refer to "Countervailing Power" https://www.dartmouth.edu/~csnyder/countervail01.pdf) still exist.
7.  Handling requests by U.S. Customs and Border Protection (CBP).
If there's one thing we hate as importers, it's handling requests by CBP because we fear our import will never make it to our door.  Yet you must address all questions that come your way to ensure you have accurate documents to present to CBP and they are in order before your shipment arrives at the border.  Should you have questions about how something is done or where things stand on a shipment, you can always ask a question to CBP: https://help.cbp.gov 
8.  Mastering C-TPAT's new risk assessment requirements.
Mastering the new initiative to merge the Importer Self-Assessment (ISA) into C-TPAT is not easy.  Companies applying for C-TPAT certification must complete a supply chain security risk assessment and report the findings to CBP, and companies enrolled in C-TPAT must complete and report risk assessments annually.  CBP has outlined a Five Step Risk Assessment (http://www.cbp.gov/sites/default/files/documents/supply_chain_assess_guide_3.pdf).  According to FedEx, ISA is a voluntary program for resident importers that work with CBP to improve trade compliance. To learn more, visit: http://ftn.fedex.com/us/services/advisory/isa.shtml.
Complying with import trade regulations is not a project you assign to a person who answers the phone at your firm. It's a legal responsibility and requires qualified people to get things done right. Think it sounds expensive?  Wait till you see what happens if you cut corners! 
Photo Credit: Bombardier