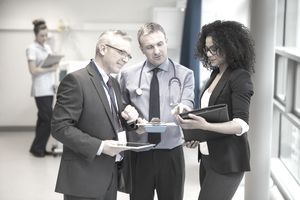 The veterinary pharmaceutical sales representative career path is a popular one.  Professionals in the veterinary pharmaceutical sales industry earn top dollar and have access to many highly desirable job perks.  Let's take a look at the ten best job perks offered to veterinary pharmaceutical sales reps:
1.  Commission or bonus pay
Veterinary pharmaceutical sales reps tend to have significant annual incomes, often in the six figure range for experienced professionals.
  Most sales positions have a commission-based component that rewards high performing individuals for their efforts.  Sales reps may also be rewarded with cash bonuses when they meet significant sales goals.
2.  Company car
The company car can be a huge perk that saves the sales rep thousands of dollars each year in transportation costs.  The pharmaceutical company also usually covers all maintenance, insurance, and fuel costs for the vehicles in their fleet.  Most reps are allowed to keep their company car at home when they are not on the road or in the office.
3.  Expense account
Sales representatives usually have a company credit card to cover incidental expenses while traveling as well as to entertain veterinary clients.  Most veterinary sales reps give educational presentations to veterinarians and their staff when they visit them at clinics, usually purchasing lunch or dinner for the employees to enjoy while they listen to the presentations.
  Reps may also send gifts to clinics as a "thank you" after they place particularly large purchase orders for products.
4.  Travel opportunities
Provided they are not inside sales reps (that work entirely out of an office based setting), veterinary pharmaceutical sales reps travel their assigned territory on a regular basis to drum up product sales.
  Those covering larger territories tend to do some air travel to cover more ground in a shorter time frame.  Those assigned to a smaller local or state territory might log more driving hours in their company car.  Either way, veterinary sales reps tend to spend a large percentage of their time on the road, a huge perk for those not wanting to be cooped up in a cubicle all day.
5.  Technology perks
Another perk that veterinary pharmaceutical sales representatives enjoy is access to cutting edge technology.  Pharmaceutical companies often provide the latest models of smartphones and laptops to their employees since staying connected to their customers is of critical importance.  Companies that are not able to provide smartphones often provide a cell phone allowance that covers the rep's monthly bill.  Some companies also pay for high-speed internet access in the rep's home.
6.  Flexible schedule
Veterinary pharmaceutical sales representatives usually work more than the conventional 40 hour work week, but they have the advantage of largely being able to set their own schedule (within reason).  A great deal of their time is tied up with traveling and responding to customer orders, with both of those activities often happening during nontraditional work hours.
  A flexible schedule allows sales reps to take care of non-work related responsibilities as needed.
7.  Opportunity to build an industry network
Veterinary pharmaceutical sales reps have direct access to many professionals in the animal health industry.  This creates a valuable networking opportunity for the sales rep, allowing them to build long-term relationships with a large client base.
8.  Continuing education and training
Most veterinary pharmaceutical sales companies emphasize the importance of continuing education for their sales force.  Sales reps attend sales meetings, training seminars, and read reports about the latest animal health product innovations.  This keeps their skills sharp and their product knowledge up to date so they can effectively answer customer questions.
9.  Tuition reimbursement
Many pharmaceutical companies provide full or partial tuition reimbursement for their employees when they attend educational institutions for additional training.
  Many sales reps choose to pursue an MBA degree so that they will be eligible to advance into upper-level management roles, such as sales manager (a position that directly supervises sales reps and their performance).
10.  Retirement accounts and stock options
Retirement account matching for employee 401K accounts is very common in the pharmaceutical industry.  Some corporations even match the employee contribution on a dollar for dollar basis.  Employees may also benefit from having the opportunity to purchase stock in the company.