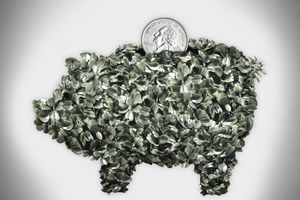 Vanguard Investments are a mutual fund company that offers some of the best low-cost, no-load mutual funds available to investors today. Therefore, Vanguard funds are smart choices to begin your search for high quality stock funds that pay dividends.
Dividends can be received as a source of income or they can be used to buy more shares of the mutual fund. Most investors who buy dividend mutual funds are usually looking for a source of income, which is to say that the investor would like steady and reliable payments from their mutual fund investment.
In most cases, because of their income-generating nature, dividend mutual funds are best-suited for retired investors. But when dividends are re-invested, these funds can be smart choices for long-term investments as well.
Also, dividend mutual funds, which are often categorized with value stock funds, tend to be less aggressive (less risky) than other types of funds, such as growth stock mutual funds.
So with that introduction to dividends out of the way, here some of the best Vanguard funds for dividends.
Best Vanguard Funds for Dividends
Yields will fluctuate over time but these three mutual funds are some of the best Vanguard funds to buy if you want dividends:
Vanguard Dividend Growth (VDIGX) is an outstanding choice for investors who are looking for reasonable dividends now but want to see the dividend payouts (the yields) grow over time. The fund primarily focuses its holdings in U.S. large-cap value stocks with about 10% of the portfolio allocated to foreign stocks. The expense ratio for VDIGX is a low 0.32% and the minimum initial purchase is $3,000.
Vanguard High Dividend Index (VHDYX) is ideal for investors looking for income now with high yields for stocks. The portfolio consists primarily of large-cap value stocks of companies in the United States that pay high dividends compared to similar companies. The expense ratio for VHDYX is a rock bottom 0.18% and the minimum initial purchase is $3,000.
Vanguard Utilities Index Adm (VUIAX) focuses on stocks in the utilities sector, which is highly sought for its high dividends. The portfolio holdings consist of large-cap U.S. stocks of utilities companies, such as Duke Energy Corporation (DUK) and Southern co (SO). The expense ratio for VUIAX is an attractively low 0.18%. However this mutual fund is only offered in Vanguard's "Admiral" share class, which has a minimum initial purchase of $10,000.
Investors should keep in mind that, although dividend mutual funds may pay high yields for current income, there is always principal risk involved with these investment securities.
Disclaimer: The information on this site is provided for discussion purposes only, and should not be misconstrued as investment advice. Under no circumstances does this information represent a recommendation to buy or sell securities.