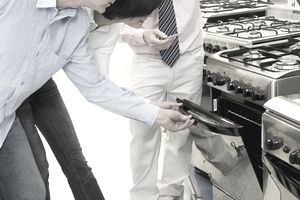 Your stove is a major appliance that you will only rarely need to buy. It's usually not an impulse purchase as you are strolling through Best Buy or an appliance center. Instead, you've either had it break down, you are remodeling and updating your kitchen, or you are moving and need to equip your new home. Often you don't have much of a choice for timing your purchase. But there are months, days of the month, and days of the week that are better for purchasing a stove.
The Best Months to Purchase a Stove
For a killer deal on a new stove, the best month to buy is in September or October. The reason is that new stove models hit the sales floor each winter. To ensure there is space for them, last year's models get tagged with clearance prices. You may also be able to get a deal in January on the very last models left on the floor. Be sure to ask about floor models and scratch-and-dent models that may be lurking in the warehouse. If you can tolerate a few surface blemishes, you may be able to wring out a better deal. 
Holiday Weekend Sales on Major Appliances
You can also get a good deal if you shop on a holiday weekend (Labor Day, Memorial Day, President's Day, etc.). These are often dates for sales on major appliances. But be sure to do your research beforehand to see whether you are actually saving money.
End of the Month Deals
Many store sales staff earn commissions.
You will be able to drive the best deal the last week of the month when they are desperate to make their sales quotas. Come prepared to negotiate. Do your research for pricing online and with competitors. Aim to at least match the lowest price you found or go even lower. If you have the proof with price quotes and print outs, you can be an assured negotiator.
Best Day of the Week to Shop for Stoves
If you can go to the store during the week, you will be able to get more attention from the sales staff and have time drive the best bargains. Aim for Thursday, daytime or evening. Interestingly, a study said that Thursday was also the day online retailers were most likely to reduce their prices. You might get online quotes early on Thursday to take to the appliance store with you for comparison and as the starting point for negotiations.
Do Your Research Ahead of Time
You won't always be able to predict when you need to replace your stove. But if it is past its warranty, you might want to start keeping tabs on what features you would want in a new stove, what brands and models you prefer, and where the best places are to buy one. Then you may be able to time your purchase for the best deal rather than waiting until it finally gives up the ghost. If you are going to be remodeling, upgrading appliances, or moving, start thinking about the best time to make your purchase within the time frame of when you will need it.