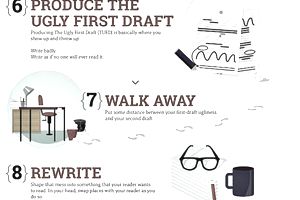 A few things I've been sharing so far this month. Enjoy!
10 Simple Edits That'll Instantly Improve Any Piece of Writing. From Hubspot. Nonprofits can be plagued with bad writing as often as other sectors. I loved this clear explanation of how to fix that.
How to Write Ridiculously Good Content: Ann Handley's 12-Step Infographic Writing Rocks shared this incredible list. Ann Handley is my role model when it comes to all things content marketing. Here she lays out the writing journey from the ugly first draft to the final publish.
How to Prevent (and Handle) Last-Minute Volunteer Cancellations. The life of a volunteer coordinator isn't all roses. Here's how to handle scheduling problems from the Volunteer Spot Blog.
Why Your Nonprofit Should Make Advanced Donor Segmentation A Top Priority - Eleventy Marketing Group. The scary stats and an answer.
Survey Shows Aging Donors Most Likely to Give Online - Dunham+Company. I wouldn't call a 40-year-old aging, but still these stats are fascinating.
4 Guaranteed Ways to Research Major Donor Prospects - Clairification. Let this be your major donor 101. Immensely helpful.
3 Ways to Raise More Money Online - Joan Garry Consulting. Great ideas, and a lot more than three things when you count all the examples.
Small Business Philanthropy on The Rise: What Nonprofits Can Learn From How Small Businesses Are Giving Back - Philanthropy Journal News. Set your sights on local, small businesses by learning what attracts them to charitable giving.
Valentine's Day is over for this year, but lots of folks have been sharing some terrific examples of nonprofit love.  So save some of these as models for next year.