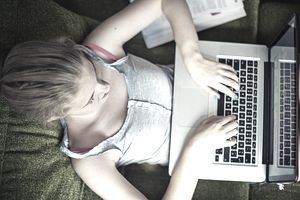 If you're a teenager looking for an after school or summer job, it's helpful to start your online job search by visiting the sites that focus on teenagers and students. Read on for a list of the best job sites for teens, along with information on how to use the sites and job searching tips tailored for teens. 
Top Sites With Jobs for Teens
Cool Works
Jobs at camps, amusement parks, state parks, resorts, and other cool places to work.
Review openings by category or state.
Craigslist.org
To start off, choose your location. Then, click on "part-time" in the jobs section to see options in your area. Or, click directly on the "jobs" tab and search by keyword. Here's more information on finding and applying for jobs on Craigslist — note the site is frequently associated with scams, so be cautious about what information you disclose and where you meet in employers. If you have any doubts, check with your parents. 
Facebook Groups
Search Facebook for "summer jobs" or "part-time jobs" and you'll find Groups set up by employers who are hiring.
SimplyHired
Use SimplyHired.com's Advanced Search option and select Seasonal (for summer jobs) or Part-Time to search for part time jobs.
SnagAJob.com
The largest and one of the best sites for finding part-time jobs and internships. Search by type of job, location, and zip code to generate a list of jobs.
Job seekers can fill out an online profile and also apply online.
More Job Sites to Use
As well as these sites listed above, nearly any job search engine site can be transformed into a teen-friendly job search vehicle by using keywords like "summer," "temporary," or "part time" to see listings that work with teens' availability.
On job boards like Monster, CareerBuilder, etc. you can also search by keyword using phrases like "summer" or "summer camp" and location.  Part-time job listing sites are also often likely to have a good selection of opportunities for teenagers.
Alternative Sources for Job Hunting
The retail and the hospitality industries often hire for summer jobs and are willing to provide training. Not all of these types of employers post online, so check with the stores or restaurants in your town to see if they have openings.
Don't forget to check the local jobs sites for your city or state, as well as the Employment Services job listings, your local Chamber of Commerce website, and the Help Wanted ads in your newspaper.
Networking is incredibly useful for finding informal jobs, such as babysitting and pet care. But it's also helpful for connecting with office jobs. Letting your friends' parents and other people you encounter know that you're in the market for a part-time position could potentially lead to a helpful introduction or opportunity.  
Teen Job Search Tips
Here's helpful tips and advice for teenagers searching for jobs: 
Know the laws around working as a teenager. Child labor rules and regulations are in place to protect workers under the age of 18.
Laws are in place about how many hours teens can work, and where. (Hazardous jobs are off-limits for teens.) And, in some states, teens may need to get working papers to be employed. 
The key to finding your first job is preparation. Having a resume in place — even if you do not have on-the-job experience is key, as is carrying yourself appropriately during the interview, and following up after it. Here's more information on writing your first resume.
Be cautious about sharing private information on job search sites. Most sites will request that you share your email address to register (this will often be your username). However, if sites ask for your phone number, think twice before sharing. Review the site's privacy policy before giving out a phone number, or any personal info including email.
If you are under 18, or not sure about what to give out, ask your parents.
Fill out job applications properly. Think of your job application as being a mini-audition for the job. If you can't follow directions and submit an error-free application, employers will be included to give your application a pass. Make sure to proofread your application carefully before submitting it. 
Practice before your first interview. You'll want to be able to speak comfortably about your job history and experience and be prepared to answer common interview questions for teens. And don't overlook the importance of appearance — here are recommendations for what to wear during a job interview (and what teens should avoid wearing). 
Need more help? Read more tips for finding a job as a teen, and applying for a part-time job.