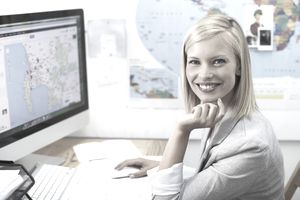 When you're looking for a job abroad, one of the best ways to find them is to use a job site that focuses on international listings. You will be able to find job postings for the country where you want to work. You may be able to view jobs in a choice of languages, and you'll be able to apply directly online to companies and for positions of interest.
The international job search engine sites allow users to search the major job sites, company sites, associations, and other online job sites by keyword for a variety of countries.
Using these sites is a way to expedite your search because you'll find jobs from a variety of sources on one website, with a few clicks of your mouse or on your tablet or phone.
Review information on some of the best job search engines for finding overseas jobs and tips and advice for finding a job abroad.
International Job Search Engine Sites
Indeed.com International Jobs
Use Indeed.com's international job search engine sites to search job listings in Canada, France, Germany, India, Spain, the United Kingdom, and many other countries around the world. The listings from thousands of websites, job boards, newspapers, blogs, and company career pages, and associations.
SimplyHired.com International Jobs
Simply Hired international job search includes Canada, UK, Australia, and India. Search Simply Hired by typing in a specific keyword(s) and location.
LinkUp Canada
LinkUp Canada includes job listings throughout Canada that are only found on company and employer websites.
LinkUp UK
LinkUp UK includes job listings throughout the United Kingdom that are posted on company websites.
CareerJet
Careerjet's job search engine network provides job listings from 50 countries, featuring separate interfaces that are translated into 20 languages.
Joblift
Joblift works with partner job boards in the United Kingdom.
It uses extensive filters and an intelligent search algorithm to deliver the best job search results from multiple job sites. 
Jooble.org
Jooble is a job search engine that searches jobs in 44+ countries.
Recruit.net
International, multilingual job search engine covering China, Japan, India, Australia, Singapore, Malaysia, New Zealand and Hong Kong. There are also some listings in other countries.
Seek.com
Seek.com includes jobs in Australia and New Zealand, executive jobs, job search and career tools, and volunteer opportunities.
iHipo.com
Search international jobs and internships for students and young professionals by country or region.
International Jobs
International jobs, internships, volunteer opportunities, and working abroad information.
More Job Listings
The best sites to find job listings including job banks, job search engine sites, niche job sites, jobs listed by type of job seeker and location, and additional job listing sites.
Tips for Finding International Jobs
Here's information on finding employment abroad including information on permanent and summer jobs, visa requirements, tips on working and volunteering overseas, and more job listings.