10 Best High Yield Bond Funds
These Bond Mutual Funds Are Top Choices for High-Yield Investing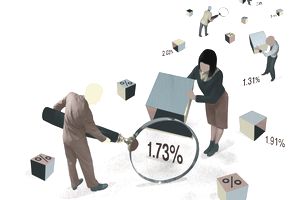 If you want to build a diversified portfolio of income-generating investments, you'll need high-yield bond funds to complement your dividend funds. 
When searching for high-yield bond funds, just be sure that you're not only looking for the highest yields. There are other qualities to consider when looking for the best funds to buy.
What Are High Yield Bonds?
Also known as junk bonds, high-yield bonds are bonds that pay higher yields because of low relative credit ratings.
More specifically, the bonds, or the entities issuing the bonds, have credit quality ratings below investment grade (a rating below BBB by Standard & Poor's or below Baa by Moody's credit rating agencies. AAA is highest). A bond can receive a lower credit rating because of the risk of default on the part of the entity issuing the bond.
Therefore, because of this higher relative risk, the entities issuing these bonds will pay higher interest rates to compensate the investors for taking the risk of buying the bonds, thus the name high yield.
Think of a personal credit score. Borrowers with poor (lower) credit scores generally pay higher interest rates on their loans or credit card balances than the borrowers with good or excellent credit. It's the same concept with the issuing entities of bonds, which can be corporations, publicly-owned utilities, and state, local and federal governments.
How to Choose the Best High Yield Bond Mutual Funds
Before buying high-yield bond funds, or any other investment, there are a handful of considerations to make during the research and analysis.
Here are some of the key points or criteria for choosing the best high-yield bond funds:
Type of Account: If the fund is going to be held in a taxable account, you may want to consider buying a high-yield municipal bond fund, which will produce income that is free of taxes at the federal income level. Taxable income is not a consideration for tax-deferred accounts, such as IRAs and 401(k)s because the income is not taxable to the investor while the high-yield bond fund is held in the account.
Tax Bracket: Reinforcing and clarifying the preceding point, tax-free bond funds are especially beneficial for investors in higher tax brackets, where minimizing taxable income is likely a higher priority, as compared to investors in lower tax brackets. To measure the benefit of using tax-free bond funds, investors can calculate the tax-equivalent yield, sometimes called the tax-effective yield.
Tax-Equivalent Yield: Tax-equivalent yield = interest rate ÷ (1 – your tax rate)
Risk Tolerance: High-yield bond funds can have stock-like returns, meaning that performance can average higher than conventional bond funds; however, declines can be more severe. For example, in 2008, the peak calendar year of the credit crisis, most high-yield bond funds declined 5 to 10 percent, whereas most conventional bond funds had increases of 5 to 10 percent. In the following year, 2009, high-yield bond funds jumped 10 to 20 percent, while conventional bond funds remained steady at a range of 5 to 7 percent. Bottom line: If you're not OK with volatility in price, high-yield bond funds may not be the best choice for you. A better consideration may be a bond index fund like Vanguard Total Bond Market Index (VBMFX), which tracks the Bloomberg Barclays US Aggregate Bond Index.
Other Portfolio Holdings: Although high-yield bond funds are higher in market risk than conventional bond funds, they may fit in well with a diversified portfolio of mutual funds. For example, if you already have a bond index fund, as well as a variety of stock funds, a high-yield bond fund could be a good compliment that adds diversification to your portfolio.
Best High-Yield Bond Funds
Since there is no one-size-fits-all high-yield bond fund, we highlight ten standouts that can be a fine addition to compliment a diversified portfolio.
In no particular order, here are our top choices for high-yield bond funds:
Vanguard High-Yield Tax-Exempt (VWAHX): If you're looking for high yields and you want to minimize taxable income with a low-cost, no-load mutual fund, VWAHX may be the best fit for your needs. The portfolio consists of more than 2,000 municipal bonds, which are tax-free at the federal level. The SEC Yield for VWAHX is 2.87 percent and the expense ratio is just 0.19 percent, or $19 for every $10,000 invested. The minimum initial investment is $3,000. As is the case with most Vanguard mutual funds, you can get a lower expense ratio if you buy Admiral shares, which usually have a minimum initial investment of $50,000.
Disclaimer: The information on this site is provided for discussion purposes only, and should not be misconstrued as investment advice. Under no circumstances does this information represent a recommendation to buy or sell securities.