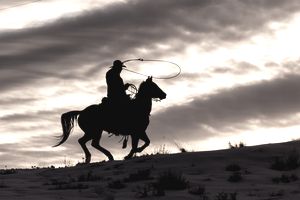 Career paths in the equine industry frequently offer a number of fringe benefits and perks in addition to the standard salary package. Let's take a look at some of the most desirable job perks that may be offered to equine professionals:
Free Housing on the Farm
Housing is a common perk for managers and also may be available for trainers, riding instructors, grooms, interns, and veterinarians. On-site housing may be attached to a barn or stable office area (such as in a finished loft apartment), or it may be offered in separate tenant houses.
The housing package may also include additional perks like cable or satellite television, internet, and paid utilities. Some farms offer a housing allowance of a few hundred dollars per month in lieu of accommodations on the farm. Housing allowances are fairly common in the Thoroughbred industry.
Use of a Farm Vehicle
Access to a farm truck is very common at horse farms, and the farm often covers the cost of gas and provides routine maintenance. Some employees, particularly managers, may have the exclusive use of a specific vehicle.
Lessons or Riding Privileges
Show stables often include a free weekly lesson or allow the regular use of a facility-owned horse for pleasure riding. This can be a great bonus benefit for equestrians, as lessons can be quite expensive in many areas.
Free Board for Personal Horse
Board is usually the biggest expense for a horse owner, costing several hundred dollars a month.
Many equine facilities allow an employee to use a stall for their personal horse, which represents huge financial savings and eliminates the need to travel to a secondary location to care for their own horse.
Flexible Schedule
Equine employers often have flexible work hours where their employees have a few hours away from the stable during the day.
For example, racing stables begin their work early in the morning to prepare horses for workouts. When the morning tasks have been completed, grooms can take a break until early afternoon when the horses are fed and wrapped for the night. Riding instructors are another example of an equine career path with a flexible schedule, as they must keep hours that are convenient for client lessons (often very early in the morning or late in the afternoon).
Pet-Friendly Workplace
Equine facilities are more likely than many other businesses to let employees bring their dogs to work. While the dogs must be well-behaved around horses and kept under strict control by their owners, they are often allowed to visit the barns and ride along in farm trucks.
Tickets or Entries to Equine Sporting Events
Access to equine events is a frequent perk for both show and racing stable employees. Show stables may pay for employees to enter some equestrian events and may provide access to a farm horse for competition if the employee is not a horse owner. Thoroughbred farms and racing stables often offer employee access to reserved box seats at the track.
Business Travel
Some equine jobs are quite travel-intensive, especially when for career paths in the racing or showing industries.
Equine professionals may receive many different benefits while traveling on business including lodging, transportation, meals, spending allowances, and access to events.
Opportunity to Earn Overtime Pay
The horse business has many opportunities for earning overtime hours on evenings or weekends. Common options include performing night watch (security) duties, assisting with foalings, working at sales, driving the horse van, and traveling to assist with shows or races. Overtime hours can add substantial amounts to a horseman's paycheck, as they are often paid at time-and-a-half rates.
Getting to Work with Horses
The chance to work with horses is a perk in and of itself. Equine jobs are frequently mentioned as "dream jobs" for animal lovers, and having direct access to horses each day is a great benefit.