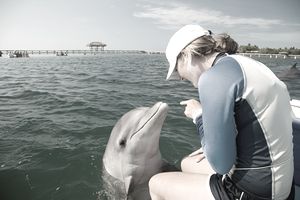 Are you looking for an amazing animal internship? There are many unique internship opportunities available with a wide variety of animals, and many opportunities offer compensation via a stipend or college credit. Here are some of our favorite animal internships:
Indiana University's Summer Research Experience for Undergraduates in Animal Behavior gives 10 students the chance to participate in both field and lab work over a ten week period.
The program, founded in 1990, is one of the premier animal behavior internship opportunities. Students are compensated with a stipend, a private dorm room on campus, all meals, and travel expenses. Applications are due in February.
View more animal behavior internships
The Darley Flying Start program offers students the opportunity to travel the world while working with Thoroughbreds in all aspects of the racing industry. The two-year program offers twelve students the chance work at top farms and racetracks in England, Ireland, Dubai, Australia, and Kentucky. Students receive a stipend, housing, transportation, and health insurance.
View more equine internships
Interested in becoming a wildlife rehabilitator? The National Wildlife Rehabilitators Association (in Illinois) offers a wildlife rehabilitation internship opportunity at its wildlife hospital. Students have the chance to help with exams, critical care, feeding, orphans, releases, fundraising, and more.
These intensive internships average a 60 hour work week but interns receive a $700 stipend plus free housing and utilities.
View more wildlife rehabilitation internships
Do you want to work with marine animals? Sea Life Park Hawaii offers several internships: marine mammal care and training, reef and sea turtle care, and veterinary technician services.
Interns may work with dolphins, sea lions, seals, penguins, sea turtles, stingrays, sharks, and reef fish. Internships are unpaid but lunches are provided.
View more marine animal internships
The University of Florida's Small Animal Hospital offers a 12-month veterinary technician internship for recent graduates (or experienced techs) that are interested in anesthesia or emergency care.  Compensation includes a salary of $24,000 plus insurance and ten days of paid vacation. Applications are due in March and the internship begins in June.
View more vet tech internships
The Kellogg Bird Sanctuary (in Michigan) offers an avian care internship program to college upperclassmen and recent graduates with a degree in biology, zoology, pre-vet, or a related area. Spring and fall internships run for 22 weeks, while summer internships last ten weeks. Interns provide daily care for captive birds, glove train raptors, present educational programs, and complete research projects. Compensation includes housing, a stipend of $180 per week, transportation, and college credit.
The Kentucky Reptile Zoo internship program is a 3-month program that gives students the opportunity to work with a wide variety of reptiles.
Students learn handling techniques, give educational speeches, and conduct research (interns are not permitted to handle any venomous species). College students may receive academic credit and a small weekly stipend is offered. Graduates of this program have had a 95% success rate in finding professional employment in the field.
View more reptile internships
The Southwest National Primate Research Center (in Texas) offers undergraduate and graduate student internships for 8 weeks each summer (and on a limited basis year round). The facility boasts the largest captive baboon population plus a variety of other species such as chimpanzees, macaques, marmosets, and tamarins.  Summer internship applications are due in mid-March and up to six interns are selected.  Interns receive an hourly wage based on experience plus up to $1,000 per student to use toward supplies or research expenses.
Surfing Goat Dairy (in Maui, Hawaii) offers internship opportunities at its goat dairy facility.  Interns can assist with cheese making, milking, husbandry, catering, deliveries, marketing, tours, and sales. Compensation includes furnished housing, internet access, most meals, use of a shared car, an employee discount on purchases, and a stipend of about $200 per week.
View more sheep and goat internships
The Miner Agricultural Research Institute (in New York) offers a Summer Experience in Farm Management for undergraduates that runs for 13 weeks. Interns are involved with herd management, milking, livestock shows, and research projects with a herd of more than 300 Holstein cows. Compensation is $3,000 less a $300 fee for housing and meals (breakfast and lunch on weekdays). Applications are due in February and internships run from May to August. A 1-year dairy internship is also available for college graduates.  Miner also offers equine internships with its Morgan herd.
View more dairy internships