What To Know Before Buying a TV Commercial Package
Ready To Make a TV Spot? Know What You're Getting Into.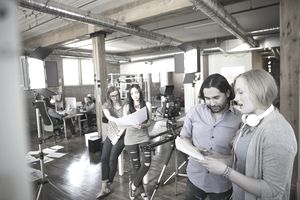 If you're thinking about getting a commercial produced for your company, or are in the initial stages of the process, you have to ask yourself several questions:
Who will shoot the video?
Who will write the script?
How will you get it on the air?
How much will it cost?
Should you go with a production company, ad agency or a tv station's production house?
It can be daunting to start the TV commercial process, but don't worry.
Everything you need to know to get started is right here. Find out what you need to know before you buy a television commercial package.
 
Look Into an Advertising Agency
If you have long-term advertising plans, a professional agency may be the right way to go. If you just want to get one commercial produced though, side-stepping this option may be the most economical decision. In most cases, agency reps will seek out a company to shoot your commercial, edit it and handle the copy in-house. This solution is perfect if the agency's handling all of your advertising needs.
Select a Production Company
Do a quick Google search and you'll see all sorts of video production companies. These production houses can usually take care of your commercial needs on a per project basis. Some will simply shoot the video and edit the commercial without writing the copy.
Be sure you know complete package details before you make your purchase.
 
Consider a TV Station's Production House
Most television stations have their own in-house production company. They can write, shoot and edit your commercial all in one place and sometimes offer a package deal that includes airtime for your spot as well.
Depending on the market you're in and even the station itself, you'll find most have access to state-of-the-art equipment within their facility. However, it is worth noting that the term "you get what you pay for" applies here. These in-house companies will not give your commercial the same kind of attention that an external agency does. Often, you'll see formulaic ads built on past successes. But if you are simply in the market for a quick, easy commercial to get the word out, it's not a bad option. 
 
Price Out the Packages
This step is just like buying any other product. You want to be absolutely sure everything you need is covered in one price. Depending on the route you take, you'll be offered a wide variety of packages and prices. For instance, some companies may offer to shoot a :30 commercial with just "stills." This is basically like having photos appear on television. No moving video will actually be used. This, of course, keeps the cost down but you can usually find a package with moving video that will suit your budget needs.
 
What's Included in your Deal?
Is copy included with that price or will you have to find someone to write your commercial? Will fonts (such as your address and telephone number) be used within your commercial?
Is airtime included? Does the package include shooting and editing? These are all questions you want to make sure you have answered before you fork over your dough.
 
Script the Commercial
Do you feel comfortable writing your own copy? Honestly, you shouldn't. You wouldn't trust the plumber to fix your computer so you should consider letting a pro copywriter handle the copy. Commercials, direct mail, brochures, etc. are all very different forms of advertising. Writing copy for TV can be quite tricky and is best left to seasoned pros. If the company you've decided to go with has its own copywriters, make sure you get the final say in copy. You don't want to be called in only to find your commercial has been shot, edited and written without your final approval. You're the client. You get the last say-so.
Remember...You Own the Rights
Your commercial is yours. The company shooting your commercial may ask to use you as a reference for future clients. They may even ask if they can use your commercial for demo purposes just so potential clients can see what type of work they produce. But you should own the rights to your commercial. A situation where their company asks for rights is very rare but it's worth mentioning so you can protect yourself.
 
Find Good Airtime
It's not common practice for a company to offer airtime with your completed commercial. But finding a station to carry your commercial isn't so hard these days with current ad rates being pretty low. Consider demographics before making a purchasing decision. You may be able to save a few bucks at certain times of the day but you want to make sure your target audience is going to view your commercial. For example, if you're advertising athletic shoes geared toward teens, you probably don't want to hit the Wheel of Fortune crowd.