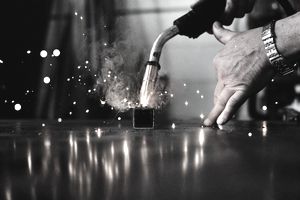 If you're looking to hire a welder for your team, there are a number of things that you or your manager need to know and understand. Not the least of these is that welding in not just a skill, but an art.
The right welder takes a great deal of pride in his or her work and strives for perfection each and every time. There are, however, plenty out there who don't. So how do you protect yourself and your company from the added frustration and expense that comes from hiring the wrong person for the job?
Here are a few things you should know about them.
Their Credentials
These days, there are a variety of certificate and degree programs that are dedicated to welding. You should insist that any welder you hire have a minimum of a one-year certificate and preferably an Associate's degree. Some (although a much smaller group) even have Bachelor's degrees. The ones who put that kind of time into their education are clearly serious about their trade and are more likely to perform well on the job for you. They are also among the most knowledgeable when it comes to the latest welding software solutions that are common to the construction industry.
Their Actual Knowledge
During the interview process, ask pointed questions that only an expert could answer. Don't be afraid to ask difficult questions, and get them to follow up their answers with examples from the field. Find out what kind of welding they do most often, and what they consider to be their strongest and weakest skills.
The right welder will answer honestly and possess the specific skills you need for the projects you bid on. You also want a welder who has up-to-date knowledge about building codes in the areas in which they will be working for you. Having to redo work because it isn't up to code is costly. 
Don't put your company in that position.
Make sure that you and your welder know and understand both standard and local building codes going into every job.
The Quality of Their Work
If possible, go to (or send someone you trust to) their shop and ask to see examples of some of their welds. If they look like something you would want representing your company, it's time to take things a step further in the hiring process. If not, move along. Don't take unnecessary risks. If you can anticipate that there will be problems down the line, you're probably right. 
Keep in mind while inspecting their work that a good weld should always have uniform width and even spacing between the ripples. They should be at least the same thickness as the material being welded and should have absolutely no porosity. 
Insurance
You should never hire a welder who isn't insured, even if you're only hiring for smaller jobs or repairs. You never know when you will need him or her to work in a larger or more involved capacity, and if you give that person more responsibility over time, you want to be sure that your interests are protected. Bottom line: Steel is a heavy material, and if anything goes wrong, serious damage or injury could result if the job isn't done right.
Don't take chances. Insist on and verify that your welder has insurance.
Is the Work Guaranteed?
If your welder welds something and it breaks, what is your recourse? Will they repair it for free? If not, keep looking. If they say yes, be sure you have it in writing. Ideally, you want the work to always be done right the first time but occasionally, things do go wrong. Make sure you are covered if and when they do. 
These five points are essential pieces of information that any construction manager needs when deciding on a welder. The bottom line is that you don't want to have to pay for work to be done twice or find yourself in the middle of a financial conundrum over shoddy workmanship—especially that which causes damage or injury. Before you hire just any welder to represent and work with your company, keep all of these points in the front of your mind.