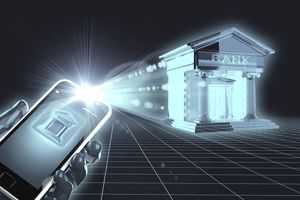 With the onslaught of digital banking tools, it can be overwhelming to navigate a virtual checking account. These four basic tips offer relevant guidelines for keeping your mobile banking skills, and your checking account, in top form.
1. Don't store important personal information on your smartphone
If you visit your bank's website using your phone, make sure to clear out the cookies and cache regularly.
Never store any usernames or passwords on your phone, regardless of how difficult they are to remember. If you were to lose the phone where this information is stored, someone could easily access your bank account. It is also important to change your password regularly. If you use your phone for business purposes, be doubly careful about protecting confidential information.
2. Sign up for SMS alerts
Most banks now offer text message alerts via SMS to alert of a low balance or a paid bill. Larger banks like Bank of America use SMS texts to aid in fraud prevention. Nine times out of ten, consumers can easily sign up for these phone alerts with online banking. Receiving alerts on your phone is a great way to stay on top of your account activity around the clock. It's also an added convenience for times when a computer isn't close at hand.
3. Before downloading an app, check its authenticity
Most banks offer tailored mobile banking applications to their customers which can be downloaded to a smartphone and used to manage bank accounts.
Unfortunately, this has also invited potential fraud in the form of carefully duplicated applications created by scam artists. Before downloading any app to your phone, make sure that it's an authentic application released by your bank. Avoid third party software that asks for any personal information if you can't verify the source.
While most apps are legit, it never hurts to be too careful.
4. Deposit checks straight from your phone
The advent of remote check deposit has added another potential bonus to mobile banking.  For consumers that don't have time to go to the bank, checks can now be deposited directly from smartphones. There are apps that allow you to take a picture of the front and back of the check. The image is digitally captured and scanned, then sent to the bank electronically where the authenticity is verified and funds are deposited to your checking account. While banking from your phone is already convenient, the ability to make a deposit to your checking account takes convenience to a whole new level. It also prevents mishaps from lost checks and curbs check fraud.