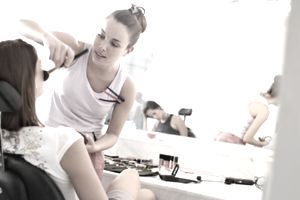 When you're interviewing for a job in a beauty salon, it's important to take the time to prepare to answer the interview questions you will most often be asked. Be ready to discuss your training, skills, ability to work with clients, beauty trends and why you want the job.
Review a list of frequently asked interview questions for beauticians and a list of skills employers are seeking, and then consider how you would answer.
The better prepared you are, the easier it will be to ace the interview.
Beautician Interview Questions
What do you like and dislike about being a beautician?
What subjects were your favorites in beauty school?
What subjects didn't you like?
Why are you interested in working at this salon?
What attributes or skills can you offer this salon?
Do you have a following of clients?
What are some newly introduced techniques and trends in manicures, pedicures and skincare?
How do you keep up with the latest styles and trends?
How do you suggest treatments, cosmetics and skin therapies to your clients?
How do you greet a client if the salon is fully booked?
How do you decide priorities when scheduling time?
Do you think you are overqualified for this position?
What type of work environment do you prefer?
Who has impacted you most in your career and how?
Have you ever had difficulty working with a manager?
How do you handle conflict amongst coworkers?
What would your salon colleagues say about you?
How do you handle an unhappy customer?
How do you react to instruction from the customer?
When given an important assignment, how do you approach it?
How do you deal with compromise?
What was the most important task you've ever had?
How do you react under pressure?
If you were hired, how long would you plan to stay at our salon?
Beautician Skills
Here's a list of beautician skills that employers seek in candidates for employment. Skills will vary based on the job for which you're applying, so also review our list of skills listed by job and type of skill.
Appointment Scheduling
Attending Classes
Communication
Conditioning Hair
Cosmetics Consulting
Creativity
Eyebrows
Facials
Friendly
Giving Body Waves
Giving Brazilian Blowouts
Giving Permanents
Hair Coloring
Hair Cutting
Hair Design
Hair Highlighting
Hair Lightening
Hair Styling
Interpersonal
Keratin Treatments
Makeup
Management
Manicures
Monetary Exchange
Nail Services
Networking
Ordering Supplies
Pedicures
Recordkeeping
Sales
Scalp Treatment
Scheduling
Service
Shampooing Hair
Skin Care
Styling
Time Management
Updated Knowledge of Products
Updated Knowledge of Styles
Waxing
More Interview and Job Hunting Tips