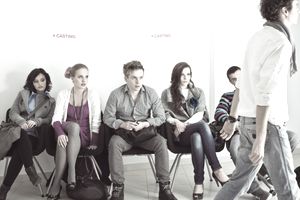 This is Part 2 of a 2 Part Article. Please click here for Part 1 of How to Make Your Commercial Modeling Audition Memorable.
Should Commercial Models Dress for the Part?
Commercial models should dress in such a way that modeling agents, casting directors, and clients can envision you in the part. So in addition to appearing neat and clean (a given for any type of modeling audition), you have to show you can look like the character.
For instance, if you're auditioning for the role of a high-powered attorney, don't walk in wearing shorts, flip-flops, and a t-shirt. Instead, wear something more professional, like dress pants, a nice shirt, and maybe a tie. By the same token, you don't want to show up looking like you're wearing a Halloween costume. So if you're up for the part of a nurse, you don't need to come in with a stethoscope around your neck, a thermometer in your pocket, and a little hat on your head. What you want to do instead is give them a hint of what they're looking for by wearing something "nurse-like," such as white pants, a white shirt, and white shoes.
Do Casting Directors Help Relax Nervous Models? 
Some casting directors make an extra effort to help models relax during an audition. They might tell them to breathe, ask them what they're nervous about (a question that sometimes makes them more nervous), or try to distract them by complimenting their shoes or by talking about something unrelated to what's happening in the room.
But...not every casting director is this nice. Some just say, "Hey, if you can't handle an audition with three people in the room, how are you going to handle being on set?" So, try and remember that nerves are normal and healthy and can actually bring a lot of energy to set. It's how you channel those nerves that matter.
Do Casting Directors Ever Give Feedback After a Modeling Audition?
Every casting director does their own thing, but some do take the time to send specific feedback to a model's agent. This is especially true if there's something the actor or model needs to know, such as something that can affect their future auditions.
And why would they make this extra effort, you ask? Well, for a few reasons:
It makes casting directors look better. Casting directors are hired to present the best talent, so it's smart for them to help you become the best you can be. They're rooting for every actor and model in the room!
It helps casting directors get more work. If a casting director can find the perfect model on the first run and knock it out of the park, they can quickly move on to the next project.
It helps keep everything on the budget. A quick search for the right model means the production will that much more efficient.
Do Commercial Models Have to "Slate" at an Audition or Go See?
First, a quick definition. "Slating" for the camera is basically an introduction. You say your name, then go straight into your audition.
Slates are standard in the acting industry but are rarely seen in the commercial modeling industry.
If there is a slate, it's not a spoken one (Aaron Marcus has only ever had to shoot 2 video slates in his entire commercial modeling career). Instead, a commercial model might be photographed holding a sheet of paper with their name on it.
That said, commercial models should still slate in character. Just like how an actor auditioning for the role of a sweet young girl would say her name sweetly, a commercial model should also look the part throughout their audition (facial expressions, dressing the part, etc.), including their slate.