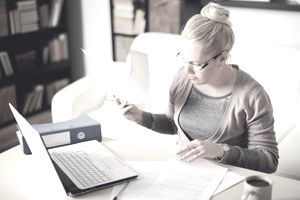 Constructing a well thought out resume that includes your goals, academic background, skills, accomplishments, experience, and activities, is a vital component to a successful internship search as well as any future job searches.
The internship resume includes experiences not typically found ​on an employment resume; but, once your resume is prepared, it can be tweaked by adding current information and relevant experiences and eventually deleting old information on college activities, coursework, and college and summer internships and jobs, etc., and can also then be used for future job searches.
Once you've put together the perfect resume, take a look at our Cover Letter Guide to learn more about how to target your unique knowledge, interests, skills, and abilities to meet the qualifications of the internship or job. Our resume samples also offer ways in which to target your resume towards a specific industry or employer.
Internship resumes can include high school information, relevant courses, activities, volunteer experiences, etc., but by senior year of college, it is best to have experiences that include relevant college, internship, and/or work experience on your resume.
The following is an example of a typical chronological resume. This is a common format used for internships. Formatting can be done a number of ways, including centering personal information, centering headings, adding lines, etc. Although there is no preferred way of developing your resume, the key is to present your information consistently by bolding, abbreviating, and formatting all experiences the same way, to make it easy for the employer to find the information they are looking for.
Also, in the chronological resume, list education and experiences by most recent first. Resumes can also be functional or a combination of chronological and functional, but these are normally used for people with more extensive work experience.
Sample Internship Resume Template
Name
Address
City, State Zip Code
Email

Education
College, City, State, Graduation Date (Month/Year)
Degree, Major/Minor/Concentration
GPA (Overall and/or Major)

Honors & Awards
Honor Society, Dean's List, Scholarships

Objective (optional)
To obtain an internship in the investment banking industry.

Relevant Experience

Title, Organization, Location, Dates

Use action verbs to explain your responsibilities beginning with most recent experience first.
Use concise language to create effective action verb statements highlighting skills and accomplishments.
Edit out articles and pronouns and begin phrases with action verbs.br]
This section can include coursework and lab experience as well as previous jobs and internships.

Title, Organization, Location, Dates

The Relevant Experience section includes all information relevant to the position to which you are applying.
It is the most important section of your resume since it provides information to the employer about any relevant skills and accomplishments you've developed so far.

Course Name, Academic Department, College, Dates

Identify the objectives of the course; including, projects, papers, and presentations.
Mention both individual and team accomplishments.

Additional Experience

Title, Organization, Location, Dates

This section might include previous waitress, administrative, and on-campus jobs where you have gained some solid transferable skills including organization, communication, interpersonal, and analytical skills.
Be selective on what you include in your resume. Remember to give priority to information relevant to the job or internship and focus on the skills developed as a result of the experience. All previous internships and/or jobs do not need to be included on every resume.

Co-Curricular Activities
Club Memberships, Sports, Music, Arts

Skills
(Computer/Language/Music/Photography)