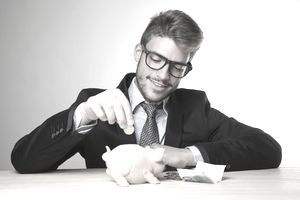 A savings account is one of the most basic accounts offered by banks. It is an account that offers interest on the account and allows you to set aside money to save, but it also has limited access to the funds. Your first bank account was most likely a basic savings account that your parents helped you to open. It is an easy account to manage and is a good basic way to save money.
You can access the funds via a withdrawal at the bank, ATM, or by transferring into your checking account.
However, you are limited in the number of transfers and withdrawals you can make from your savings account – Regulation D allows you six transactions per month. If you exceed that number, you may be subject to bank fees.
When Should I Use a Basic Savings Account?
A savings account is a good place for your emergency fund. Most experts suggest an emergency fund of 3-6 months of living expenses. However, you may only want to keep part of that sum in your savings account; after that, you may consider putting the remainder of your emergency fund into other savings tools offered through your bank, in order to make interest off that money. Just be sure that is easy to access in case you need the money.  
You can also use a basic savings account for your sinking funds. Sinking funds can cover things like vacations, home repairs or other bigger expenses that you are saving money up to cover. This keeps the money out of your checking account, which keeps you from spending it.
But it's still easy to transfer to the account and to track the amount that you have saved up.
Some people who have poor credit or financial history may be required to use a savings account because the bank will not allow them to open a checking account. If you are working on improving your standing with the bank, it is important to handle your account responsibly.
This can be difficult, especially if your bank limits withdrawals from your savings account. A strict budget and plan when you cash your checks can help make this doable so you can open a checking account again.
What Are the Limitations on Savings Account?
If you are just opening your savings account, it is important to understand the minimum balance requirements. You should also keep in mind the limits on savings account transactions via Regulation D to avoid paying unnecessary fees.
You can set up automatic transfers and deposits into your account, which will help you to save money automatically. Some banks will offer a higher interest rate if you sign up for an account with a higher minimum balance requirement. You should only do this if you know that you can maintain that higher minimum glance requirement, otherwise you will pay more money in fees than you would earn in interest.
Additionally, most savings accounts will not pay interest if you do not meet the minimum balance requirement. Savings accounts are insured by the FDIC for up to $250,000.
What Are the Interest Rates for Savings Accounts?
The interest rate on a normal savings account is fairly low. The rates are tied to the rates set by the Federal Reserve and since loan rates are so low, so are the interest rates offered by banks.
When loan rates go up so will the rates offered on savings accounts.
For this reason, a savings account is good for a person who is just beginning to save money, and cannot meet the minimum balance requirements on a money market account or other investment tool. It is also a good first account for a child or someone just learning how to manage their money.
Should I Open an Online Savings Account?
You may consider setting up a savings account with an online bank, which may offer a higher interest rate. Keep in mind that these banks can take up to three days to transfer the money to your local checking account. This means that you should only transfer money over that you do not usually need. This can be used to your advantage, if you struggle with impulse spending because it forces you to spend time thinking about unplanned major purchases.
Also, when you sign up for an online account make sure that the bank is insured by the FDIC and is in good standing.
Updated by Rachel Morgan Cautero.